Toronto, Ontario; Mississauga, Ontario; London, Ontario
daviding February 28th, 2017
Posted In: memories
The name of the band — Worst Pop Band Ever — is intriguing, and the venue was The Rex, which has become a hub for jazz in Toronto. It's easy enough to surf over to their web page on Myspace, and give the band a listen. Apostolos also listened to their music, and we agreed to meet for the 6:30 p.m. show.
The reason for the funny name is that, although the band plays pop-style tunes, they're clearly jazz musicians. When they play Bjork's "Army of Me", you can recognize it, but they're headed a different direction. I like the mix.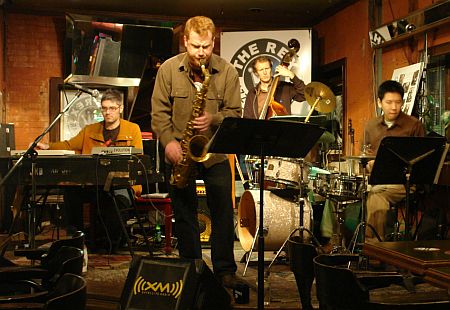 Read more... (282 words, 2 images, estimated 1:08 mins reading time)
daviding January 3rd, 2007
Posted In: distractions
Tags: new-bilan, The-Rex, worst-pop-band-ever
Toronto has a good music scence … if I'm in town to see it!
I called Andy, and asked if he wanted to go to The Rex to see Tara Davidson (an upcoming sax player) at her CD release performance. She was playing with Mike Murley (veteran sax player) and David Braid (keyboards).
Read more... (149 words, 1 image, estimated 36 secs reading time)
daviding October 13th, 2006
Posted In: distractions
Tags: fx01, Mike-Murley, panasonic, Tara-Davidson, The-Rex