The name of the band —
Worst Pop Band Ever
— is intriguing, and the venue was
The Rex
, which has become a hub for jazz in Toronto. It's easy enough to surf over to
their web page on Myspace
, and give the band a listen. Apostolos also listened to their music, and we agreed to meet for the 6:30 p.m. show.
The reason for the funny name is that, although the band plays pop-style tunes, they're clearly jazz musicians. When they play Bjork's "Army of Me", you can recognize it, but they're headed a different direction. I like the mix.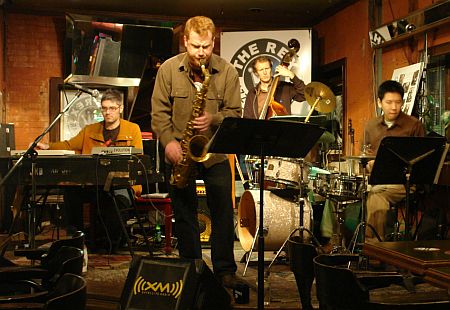 Apostolos had never seen a melodica played before, so he found the instrument interesting.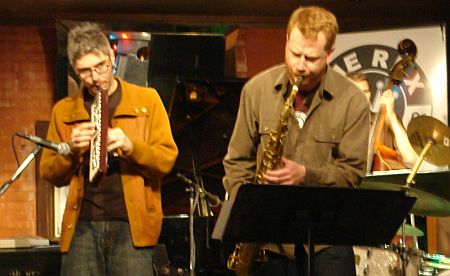 WPBE seems to play in spurts — becoming the early Wednesday night house band for The Rex in January — and they're worth watching for. Their music is fun: initially easy to listen to, becoming more challenging as the tunes progress (as does jazz).
One personal benefit of the early show … I don't disrupt my life as much by having to stay up late! Apostolos and I went out for a Somali dinner at New Bilan — I had their last serving of goat! — which proved to be cultural (as much as culinary) experience. (The restaurant isn't in the best area of town, and the storefront decor is far from opulent). The meal was wholesome, the bill inexpensive, and the atmosphere relaxed.
Apostolos and I have started fighting over who gets the pay the bill. He let me win this time, because he said that I used the same arguments that his mother would. (I guess Greek and Chinese cultures are similar in tradition!)