Another eight days in Tokyo, for work plus sightseeing, also serving as a tour guide for Roy.
I've been in Tokyo for over a week every year since 2007, so I know the city sights well.  This 2010 trip saw me serving as a tour guide for Roy (who came on the same plane as me from Toronto), as well the many of the other visiting researchers.  On the first night, Sunday, the group convened at the
usual hotel near Tamachi station
.  We randomly chose a pub, where we puzzled through a Japanese menu and ended up ordering a hotpot from a waiter who spoke no English.
Early Monday morning, we took the train over to the Tsukiji market.  Coming by a different route than before, we encountered a temple where businessmen were making offerings.
In mid-morning, some of the tuna were still in recognizable forms, with fishmongers rapidly creating portions with saws and knives.
On this visit, I discovered the reason that some tuna are called yellowfin.  These had a yellow fin smaller than a thumbnail.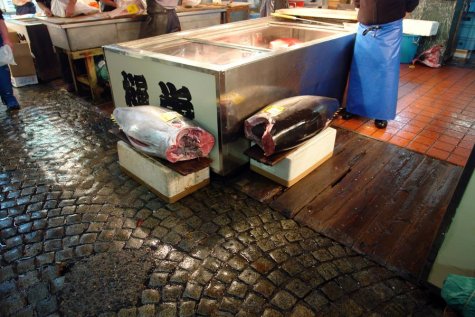 From Tsukiji, we walked through the Ginza, and up towards Yurakucho.  We stopped by a pachinko parlour where the machines were as loud in the morning as they are in the evening. Continue reading "2010/02/27-03/07 Tokyo"