One of my longer trips to Finland was for 14 days in favourable fall weather.  I was scheduled to teach a class in the Creativity Sustainability program.  Immediately before and after that teaching, there was an opportunity to pick up some credits for my graduate studies.  While this visit was busy with work, I also made some time for sightseeing, with the guidance of friends (and friends of friends).
My usual Aalto University campus (i.e. for engineering) is at Otaniemi in Espoo, on the west side of Helsinki.  The class that I was teaching was at the school of arts and design (i.e. Taik), at Arabia Centre within Helsinki city limits on the east side.
The redeveloped factory facilities fit the feel for a design school.  While about half of the Creative Sustainability students had undergraduate training in design, the other half were drawn from other studies from across the university.
As usual, the Kiasma Museum of Contemporary Art was nearby my apartment, so I went over to catch a showing.  With warm fall temperatures, there were skaters on the plaza.
The Kiasma is one of favourite art museums in the world.  One installation that caught my eye was the 2009 work of Jacob Dahlgren, titled The Wonderful World of Abstraction.
On the Saturday afternoon, Heimo suggested we might meet up at Korjammo Culture Factory, a short walk north from the city centre.
On this weekend, the major event was an arts and craft market. Read more... (676 words, 26 images, estimated 2:42 mins reading time)
daviding August 10th, 2012
Posted In: travel
Tags: geo:lat=60.1812976, geo:lon=24.52021979999995, geotagged, Haikaranpes, Hvitträsk, Karjammo, kiasma, Taik, Toolo Bay
I've been going back to Helsinki one to three times per year over the past five years.  On the past few trips, I've been staying at the same apartment in the city centre, just behind the National Museum.  I usually land one day early so I can get over jet lag, and do a little visiting.  On the way to the grocery store at at Kamppi, I came up to the plaza and noticed another in the ever-changing schedule of activities.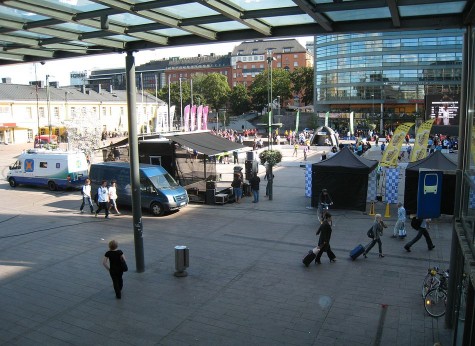 The Finns can make hockey a year-round sport.  I noticed that the goal post and net are a smaller target than in the winter.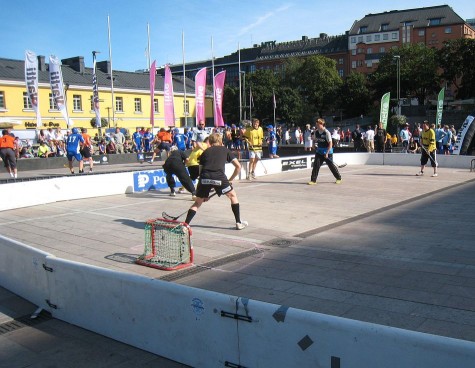 On another rink, women were making aggressive moves with their hockey sticks.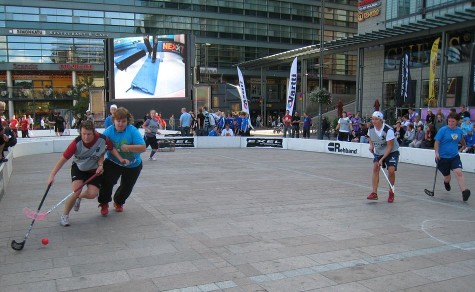 The next day was rainy.  I arranged to meet Ritva at one of my favourite places, Kiasma: the Museum of Contemporary Art.  I assume that the large pink writing described the show, because I still don't read Finnish.  The Kiasma web site describes a show called  Fluid Street.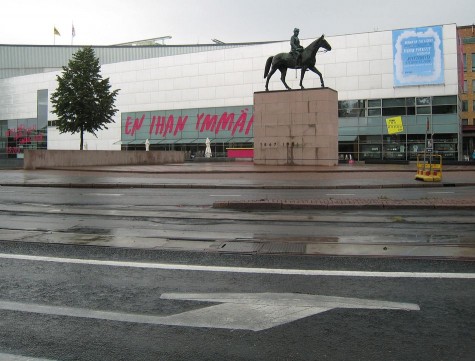 These 2005 "Modified Social Benches" by Jeppe Hein don't encourage visitors to lounge. Read more... (804 words, 29 images, estimated 3:13 mins reading time)
daviding June 20th, 2009
Posted In: travel
Tags: fluid street, kamppi, kiasma
I'm a fan of contemporary art, and the Kiasma is one of my favourite art museums in the world. On Friday nights, admission to Kiasma is free. Karlos and I had plans to meet for dinner, so I suggested that we take a quick browse of the exhibits. While there's a video documentary playing in the stagelight constructed by Tuomas Laitinen, the observer becomes a part of the exhibit titled Lighthouse Vol. 1.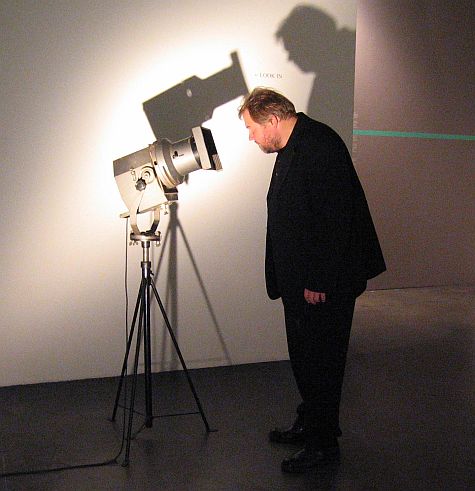 I liked, from Kiasma's permanent collection, Drought Circle by Richard Long.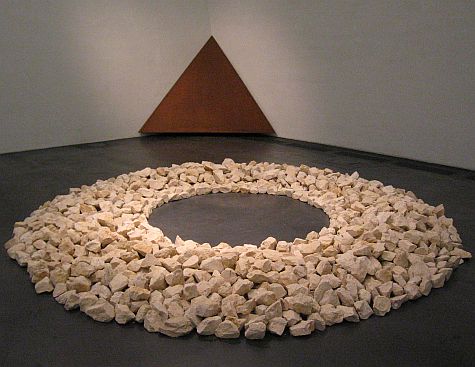 Read more... (171 words, 3 images, estimated 41 secs reading time)
daviding November 2nd, 2007
Posted In: travel
Tags: A long time ago, drought circle, gazing at my own landscape, kiasma, lighthouse, Radoslaw Gryta, richard long, Tuomas Laitinen