I've been going back to Helsinki one to three times per year over the past five years.  On the past few trips, I've been staying at the
same apartment in the city centre
, just behind the
National Museum
.  I usually land one day early so I can get over jet lag, and do a little visiting.  On the way to the grocery store at at
Kamppi
, I came up to the plaza and noticed another in the ever-changing schedule of activities.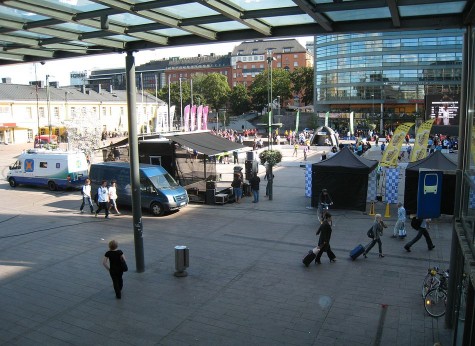 The Finns can make hockey a year-round sport.  I noticed that the goal post and net are a smaller target than in the winter.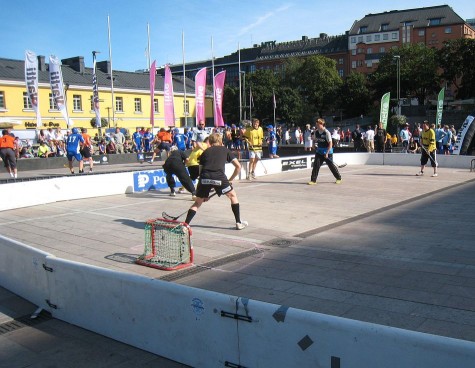 On another rink, women were making aggressive moves with their hockey sticks.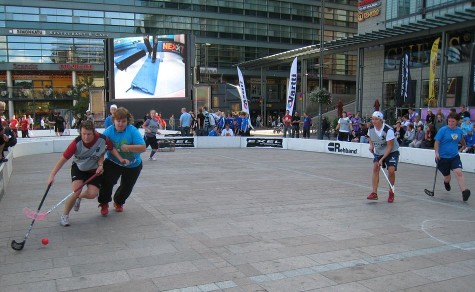 The next day was rainy.  I arranged to meet Ritva at one of my favourite places, Kiasma: the Museum of Contemporary Art.  I assume that the large pink writing described the show, because I still don't read Finnish.  The Kiasma web site describes a show called  Fluid Street.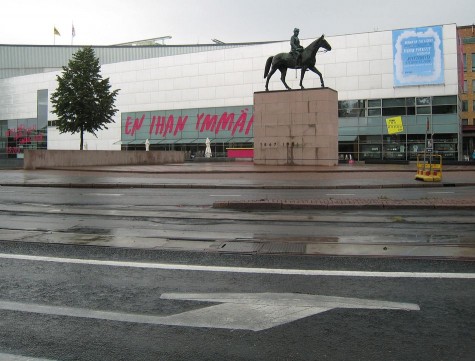 These 2005 "Modified Social Benches" by Jeppe Hein don't encourage visitors to lounge.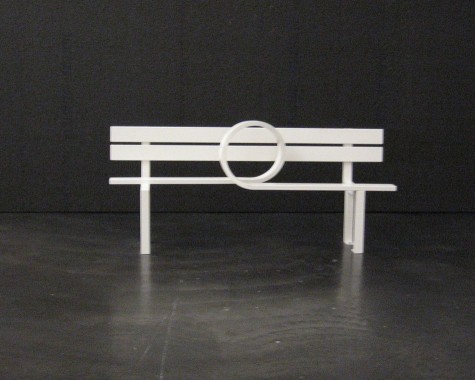 The 2005 "Mon Grand Ecrit: Weep into Stones" sculpture by Lee Bul is a small mountain with an illuminated billboard.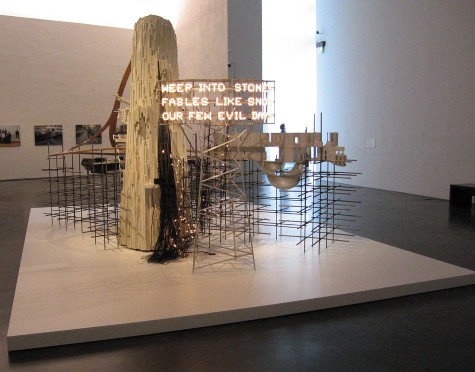 On the back side of Lee's mountain is an elevated network of roads.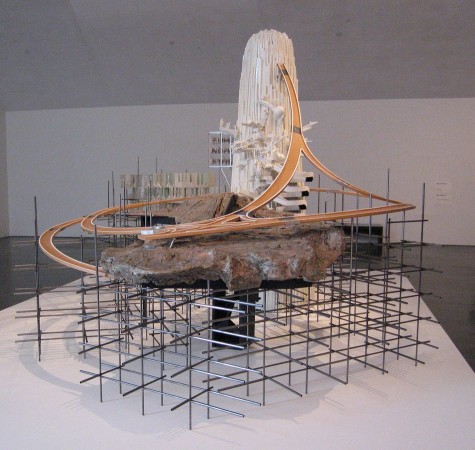 From an upper floor of the Kiasma, looking out a north window, there's a big dig in progress.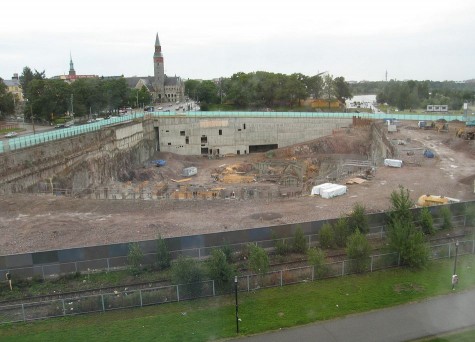 Art is where you find it.  The suggestion board has been converted into a collaborative work of paper folding by Kiasma visitors.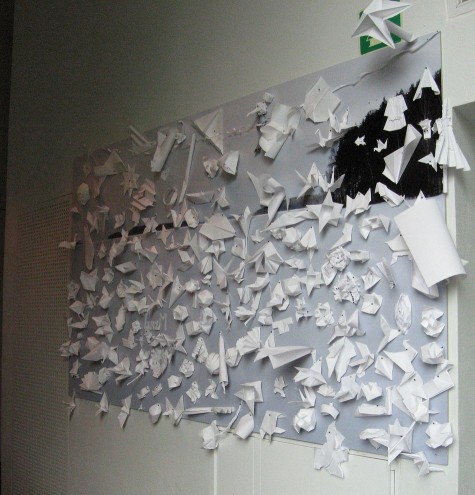 "Another Little Exhibition" by Silja Rantanen is suspended in midair, with an outline of the "walls" on the floor below.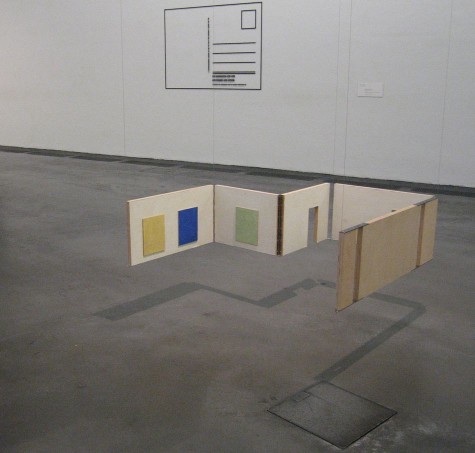 The 1989 "Drawing"s by Kristjan Gundmundsson were spaced out on the wall.  Each is a separate piece, so I wonder if there were specific instructions about how they were to be hung in a collection.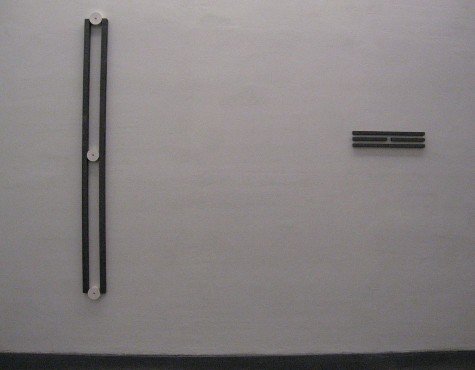 The 2001 "Untitled" set of polished stones by Matti Braun was enhanced by splash of colour on the wall behind.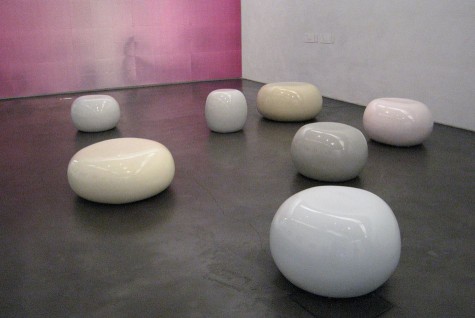 The curved wall provides set of black on black paintings by Sirous Namazi called "Interior Living Room.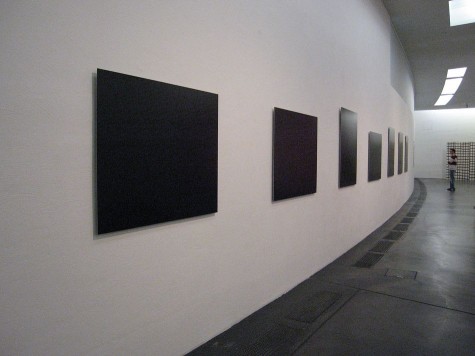 An untitled 1983 piece by Jan Hofstrom is a mysterious package on the floor.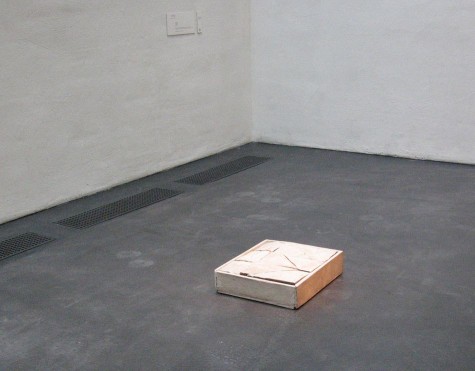 The "Sheet Naval Game" by Anu Tuominen has a clothesline feel to it.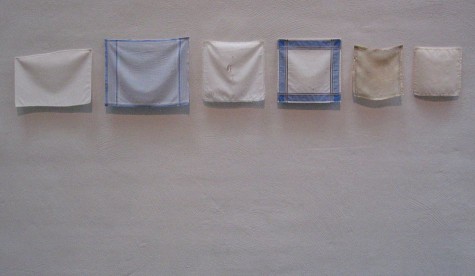 The 1991 "Mechanism of Three Overpainted Dimension in Red" was by Jussi Niva was accompanied by the set in blue.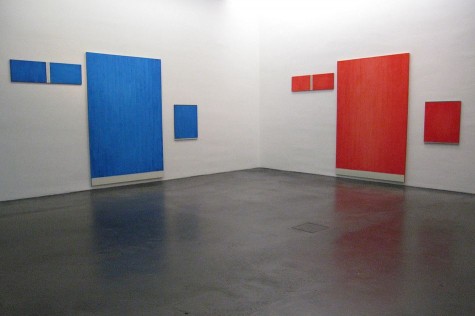 The 2005 large Toy painting by Marianna Uutinen stood away from the wall, beside a display case of other works.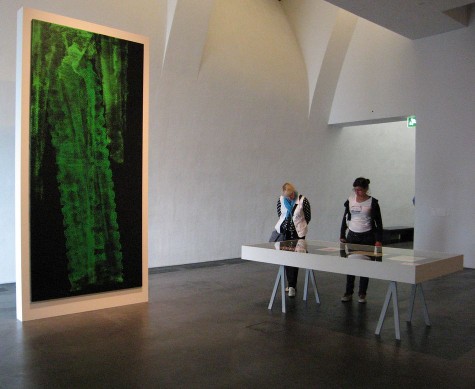 Outside the west window, some teenagers — some on roller skates — were trying out the skateboad ramp in the rain.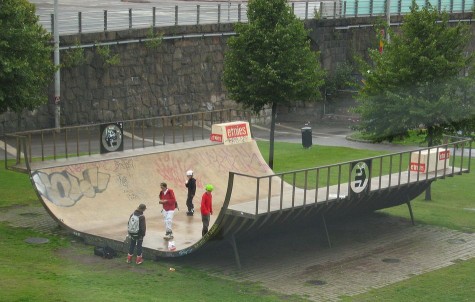 The Fluid Street exhibition had a large collection of works by Vesa-Pekka Rannikko .  The 2008 column called Colors was mostly dark, with some paint visible closer up.  On the floor, the 2008 Horizontal is plaster over a flattened barrel.
Rannikko's 2008 sculture Perfect is plaster over a copy of a pile of snow.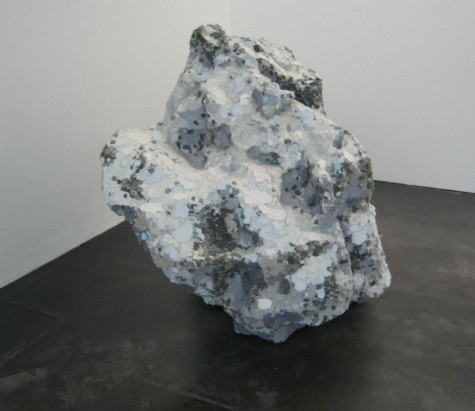 A broken door and two cases of beer are plastered in the Kick and Twice sculptures by Rannikko.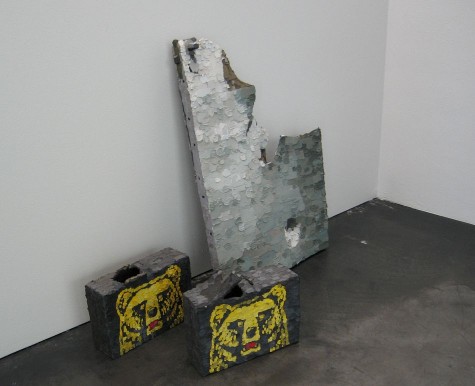 Crossing from one wing to the other on the third(?) floor gives a good view of the curved ramps running down the middle of the Kiasma.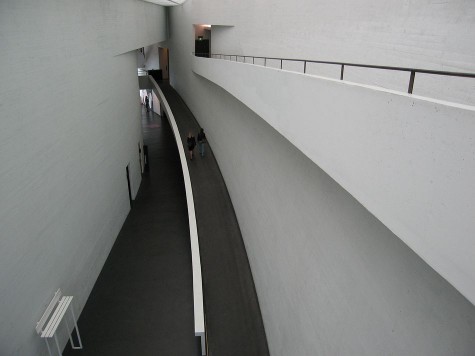 In amongst some galleries with movies showing was a series of zinc and copper plates called Weberns Run by Carl Andre.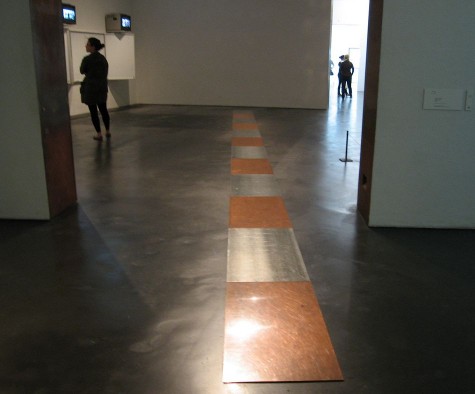 A series of chrome mechanism paintings called Cosmos were created by Eino Ruutsalo.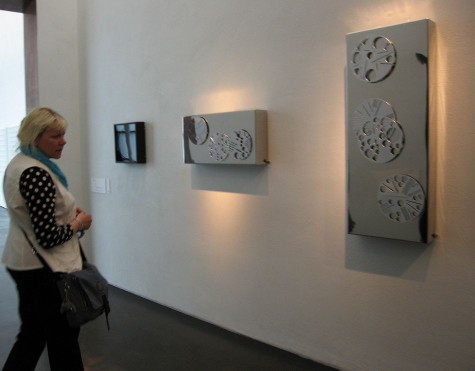 At the one end of the building was a series of benches by Hannu Siren titled In Time, which may or may not have been appropriate for sitting on.  Another Ranniko sculpture of tubes titled In Between was leaning against the walls.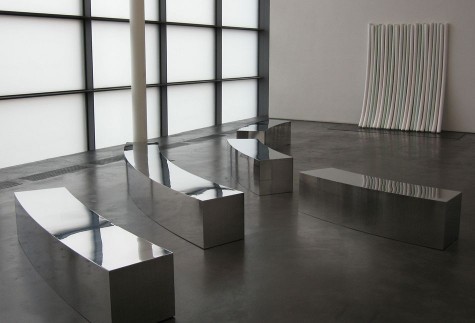 This visit to Kiasma was one of the better shows that I've seen.  (My last visit wasn't quite a waste of time).  After spending a few hours in the museum, the weather had cleared a bit.  Coming out of the building brought me to the landmark Mannerheim statue, for whom one of the major Helsinki streets is named.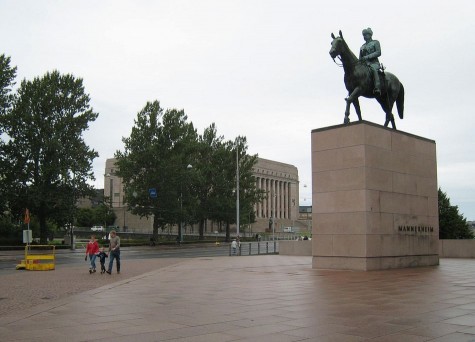 The Helsinki Central Rail Station is nearby.  Tracks leading there are buried in a trench so trains have clear access while minimizing disruptions to traffic and risking pedestrians.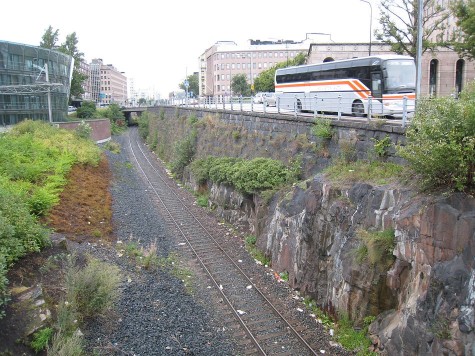 On my way back to the apartment, I noticed a small playground nestled in granite outcroppings.  The wooden bridge is a simple but skill-testing piece of equipment for children to play.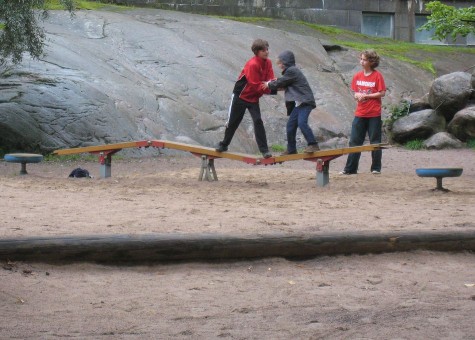 I got in touch with Minna, and she invited me out to the house.  While she was finishing off some gardening, I made dinner.  I know her kitchen well.  She told Tommi and Petri to start eating without her, because they were hungry.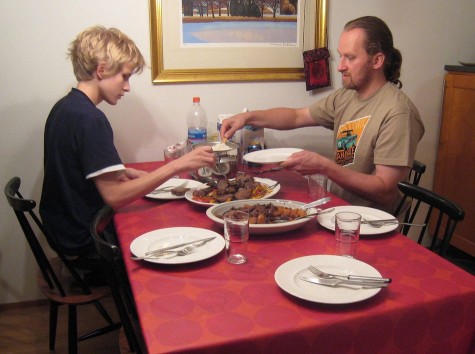 I'm comfortable getting around Helsinki by myself.  I can get around on the buses and trams, and borrow people's kitchens when some home cooking is welcomed.  It's an easy place to visit.