On the day earlier I arrived in Helsinki to beat jet lag, I saw street hockey on the Kamppi plaza, and the Fluid Street exhibition at Kiasma.
I've been going back to Helsinki one to three times per year over the past five years.  On the past few trips, I've been staying at the
same apartment in the city centre
, just behind the
National Museum
.  I usually land one day early so I can get over jet lag, and do a little visiting.  On the way to the grocery store at at
Kamppi
, I came up to the plaza and noticed another in the ever-changing schedule of activities.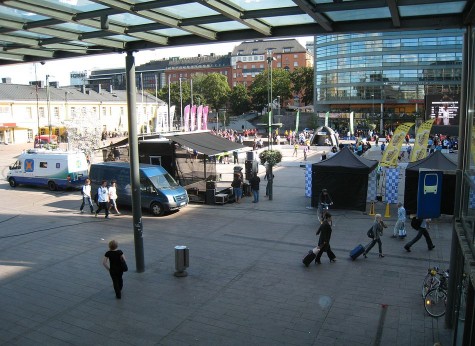 The Finns can make hockey a year-round sport.  I noticed that the goal post and net are a smaller target than in the winter.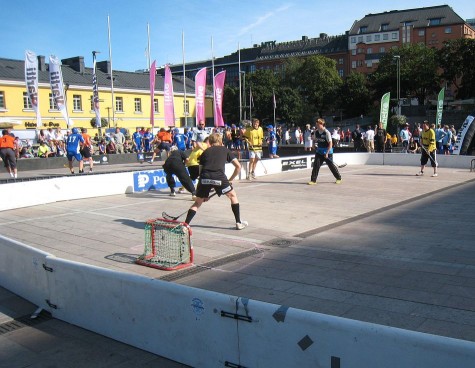 On another rink, women were making aggressive moves with their hockey sticks.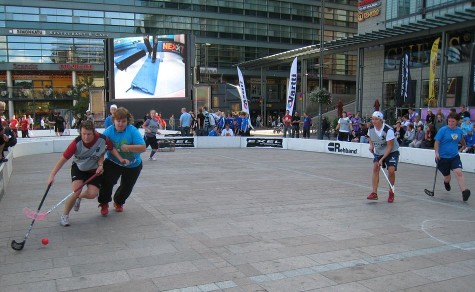 The next day was rainy.  I arranged to meet Ritva at one of my favourite places, Kiasma: the Museum of Contemporary Art.  I assume that the large pink writing described the show, because I still don't read Finnish.  The Kiasma web site describes a show called  Fluid Street.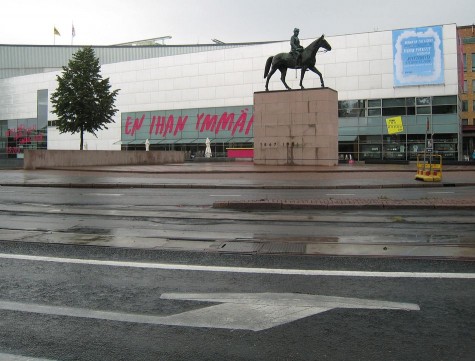 These 2005 "Modified Social Benches" by Jeppe Hein don't encourage visitors to lounge. Continue reading "2008/08/23-24 Kamppi hockey, Kiasma "Fluid Street", Helsinki"