Mike Stern is one of my favourite musicians.
I've previously seen him perform at the 55 Bar,
in the Village in NYC, and he's been
a regular attraction at previous Toronto Jazz Festivals
. Antonio is an aspiring guitarist, and our schedules only permitted us to see
Steps Ahead at Iridium on the night that Mike wasn't playing
. Since I was spending a lot of time in town, I made a point of scheduling an evening when Mike is at
55 Bar
. This evening was a trio with
Lionel Cordew
on drums and
Tom Kennedy
on bass.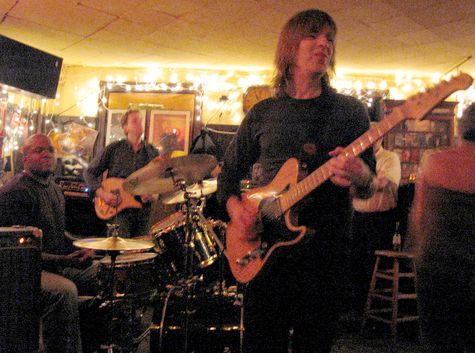 Bar 55 is long and narrow. We enjoyed a front row view of the musicians, so Antonio did as most guitarist do — watching fingers fly. After the set, Antonio bought a CD and had Mike sign it.
I chatted with Mike briefly. I had just picked up the Lifecycle album with the Yellowjackets where Mike had performed as a guest member of the band. Mike said that it was a great experience, and so much fun to play with such great musicians.