Simon and I live downtown, and have usually driven (way) uptown to visit Greg. Our preferred mode of transportation is bicycle, so good weather presented an opportunity for a tour. I'm less ambitious in my distances than Simon, and suggested
reduced pedaling by riding the TTC
. We started the journey from Queen Street East up to
Pape Station
— after I changed two flat tires. The gauge on the
new bicycle pump
reads differently!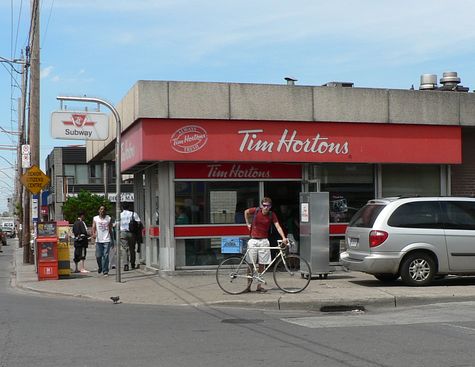 I chose my vintage 1983 touring bike with cycling shoes and toe clips for this trip. Simon has a really nice Cannondale touring bike, but doesn't like to park it outside. He chose to ride his father's old bike, and thought flip flops were sufficient for pedaling in the summer heat .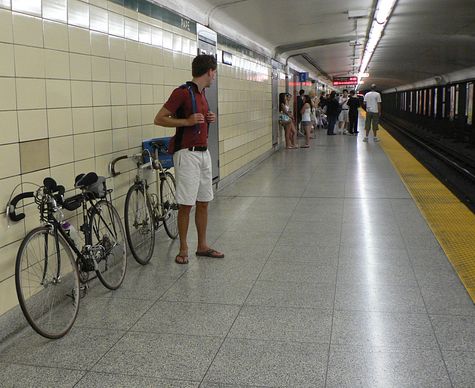 From Pape Station, we rode up to the Kennedy station, and changed to the Scarborough LRT. Bikes are not that unusual on the subway, outside of rush hour.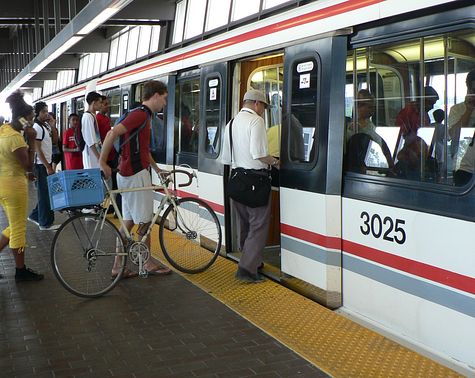 The LRT routing jogs north before turning due east, so Midland station is closest to Unionville. This is where our ride seriously started.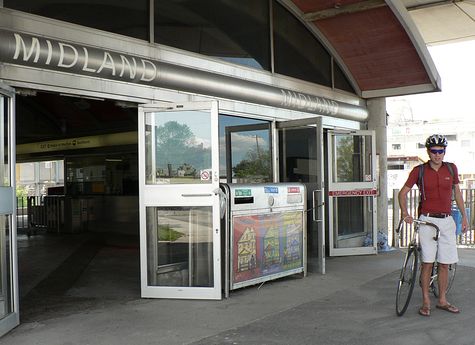 A long ride north through industrial lands brought us to the corner of Midland Avenue and Sheppard Avenue. Knox United Church, on the northeast corner, is a landmark.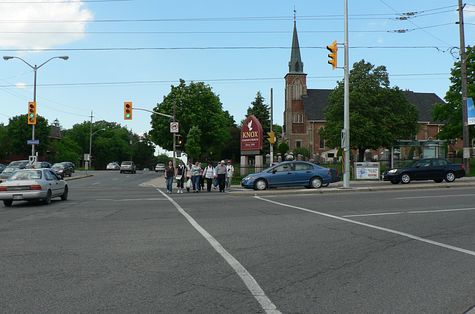 Continuing north on Midland Avenue takes us through suburbia. The next major intersection is at Finch Avenue.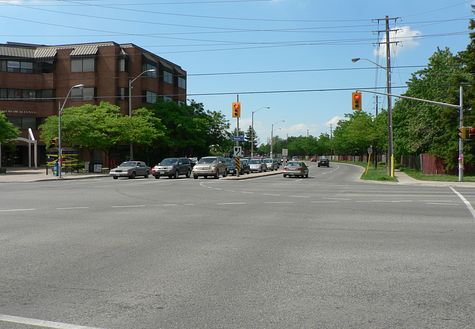 Midland Avenue dead ends at Steeles Avenue. Across the rail tracks and past a mall, we continued north onto Kennedy Road. Looking down a big hill on the approach to the 407 Express Toll Route, we decided that we wouldn't be returning by this route, to avoid a steep climb.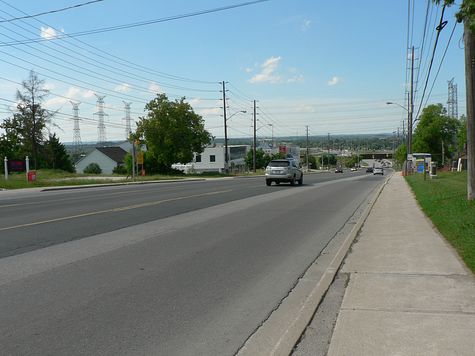 Coming down the hill on bicycle picks up a lot of speed. I chose to put on the brakes for a snapshot of the 407 ETR looking east from Kennedy Road
Kennedy Road gradually winds east to parallel Main Street in Unionville. To avoid the crush of tourists, we followed Kennedy Road north up to Carlton Road, and came west into twn. This brought us to the Crosby Memorial Community Centre at the main intersection of Main Street.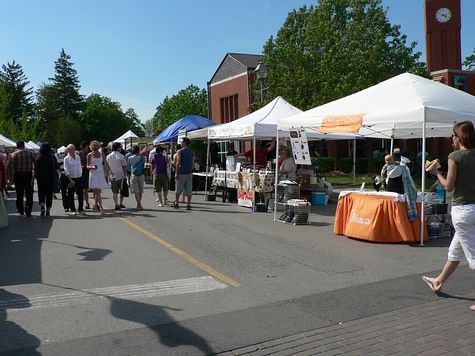 Main Street was closed for pedestrians for the Unionville Village Festival.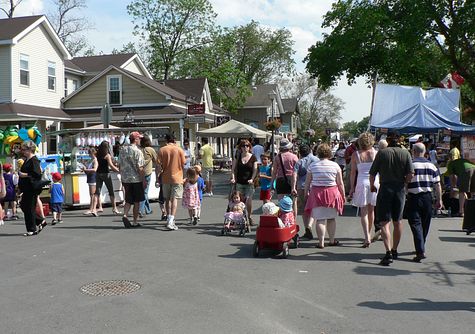 We called Greg on his mobile phone, and he directed us south on Main Street.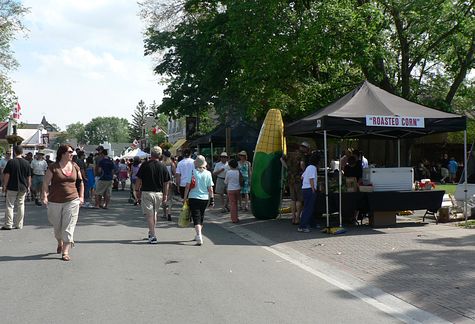 Set back from Main Street, on the west side, Greg said that we could find him at Jake's on Main.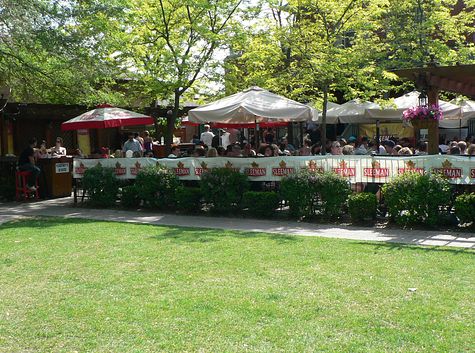 We joined Indira and Greg for three rounds of drinks to take the edge off the heat. (That's ginger ale on my side of the table!)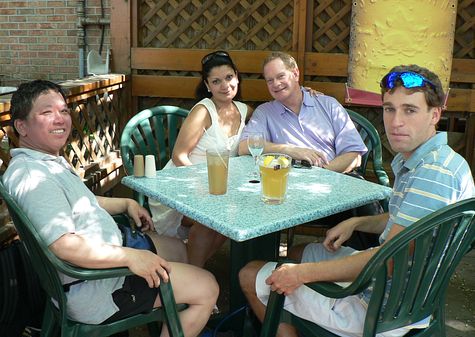 After three rounds of refreshment, we chose to escape the Unionville crowds at dinner. Greg suggested a Chinese plaza just south on Kennedy. Simon and I arrived on bicycle before Greg and Indira did in the car. After browsing the wide selection of Asian cuisines available in the plaza, we chose standard Cantonese fare at Keung's.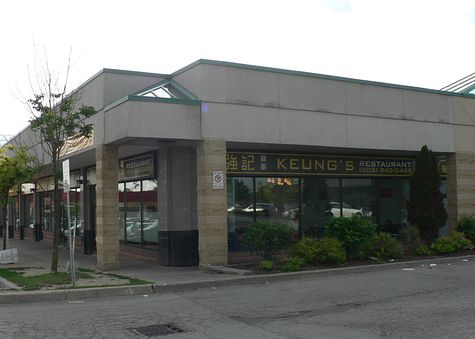 After dinner, Simon and I said goodbye to Greg and Indira, and started our ride home. From Kennedy Avenue, we tried to find some westbound side streets as an alternative to climbing the big hill on Kennedy Avenue south of the 407 ETR. There are no small through streets. The only other alternative was to ride across Highway 7. Traffic moves at greater than 80 kph on Highway 7, but , fortunately, the traffic was light and we were on the road for only a few minutes.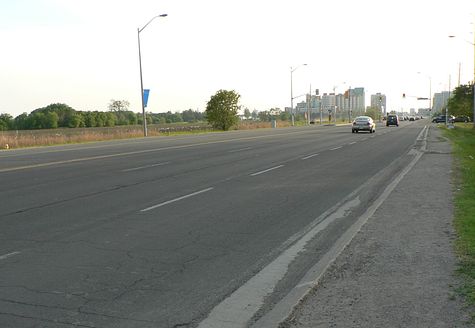 From Highway 7, we turned left at the the next major southbound street: Warden Avenue.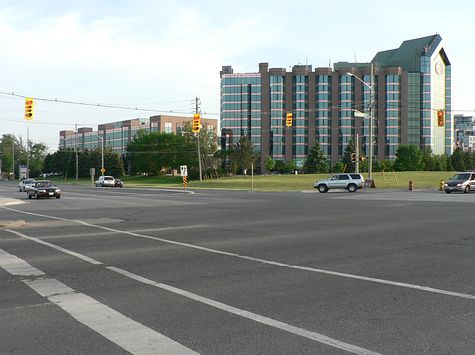 The ride south on Warden Avenue was mostly downhill, with a few rises, such as this bridge over the rail lines.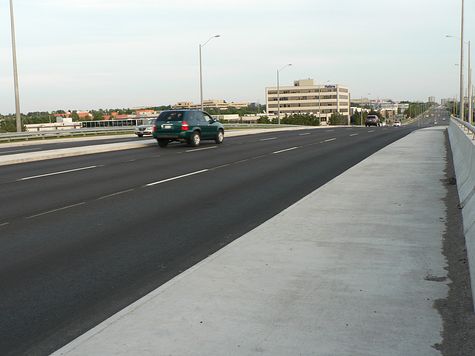 From the bridge, we can see a lot of industrial warehouses around the rail line near Warden Avenue south of Highway 7.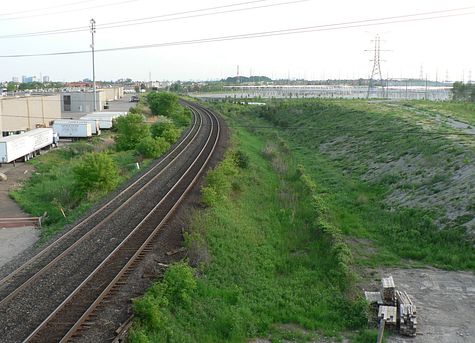 As we approached Finch Avenue, we were starting to get worried about the setting sun. We hadn't packed headlights.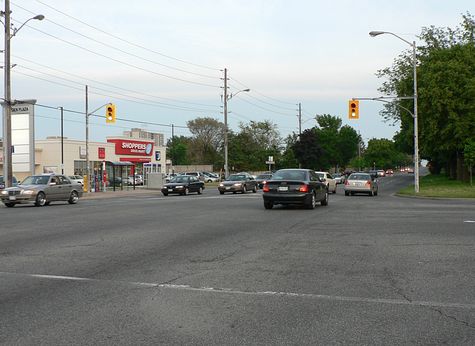 Continuing on Warden Avenue south to Sheppard, the continuous pedaling was wearing us out.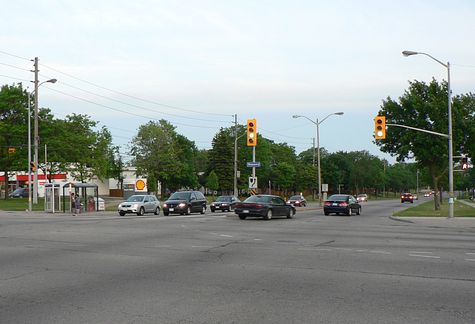 Before the sun had completely set, we reached Warden Station. Sitting in a subway car was a nice break from more pedalling.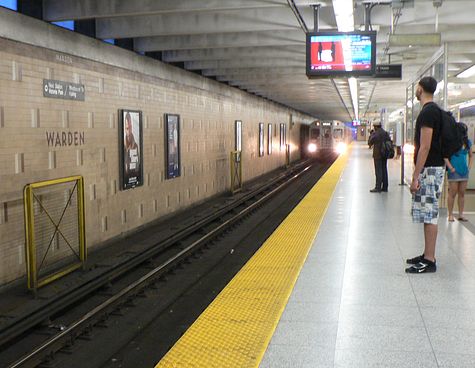 I left Simon at Pape Station, where we had started our subway ride. By this time, it was totally dark outside. Since he didn't have headlights on his bicycle, he was planning on station closer to his home, and was weighing the merits and demerits of transferring at the Bloor-Yonge Station.