On the Jane's Walk weekend, I joined a tour of the Toronto Port Lands led by Ken Greenberg.
In honour of
Jane Jacobs
, Toronto was one of the cities offering a weekend of "free, community-based series of urban walking tours, led by volunteer guides". Of the
68 tours available in Toronto
, I chose the
Jane's Walk
on "
Creating an Urban Estuary at the Mouth of the Don
" led by
Ken Greenberg
. It was an easy bike ride to the starting point, the
Keating Channel Pub
in the
Port Lands
.
Ken Greenberg had described the walk as follows:
Major world cities such as Toronto are in transition, needing to re-integrate strategically important post-industrial landscapes while reframing their interactions with the natural environment. Through a major initiative of WATERFRONToronto the long neglected area where the Don River enters Toronto Harbour is being transformed into a naturalized river mouth in a generous park setting as the centerpiece of vibrant new mixed-use riverfront and lakefront neighborhood that unifies the goals of ecological restoration and urban regeneration. A team led by Michael Van Valkenburgh Associates of which I am part was selected through an international competition to guide this effort. The tour will explore the past, present and future of this remarkable site.
Looking northwest from the pub, downstream on the Keating Channel, the Cherry Street bridge south of Lakeshore Boulevard East is in the foreground, and downtown Toronto is beyond.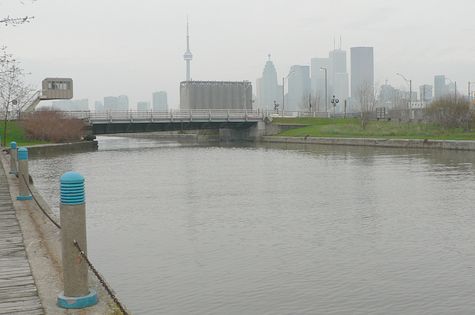 Looking east, upstream on the Keating Channel, the elevated Gardiner Expressway turns north to enter the Don Valley Parkway. The Don River would naturally have gone south through the area now the Port Lands, but was redirected at the beginning of the 20th century to flush sewage more rapidly into the harbour as an alternative to the natural path through the marsh. Greenberg foreshadowed the announcement by Mayor David Miller that the elevated roadway would be brought down to grade, and routed further north so that promenades can be constructed along both the north and south banks. Continue reading "2008/05/03 Jane's Walk, Lower Don Lands Tour"