After a full day on the
Rendez
workshop at the
Shibaura Institute of Technology
, we deserved some leisure time. A relative of one of the secretaries in Yoshi's office runs a river cruise from
Asakusabashi
, down the
Sumida River
to
Odaiba
. The group of us climbed a wooden shack by the waterfront to enter the riverboat.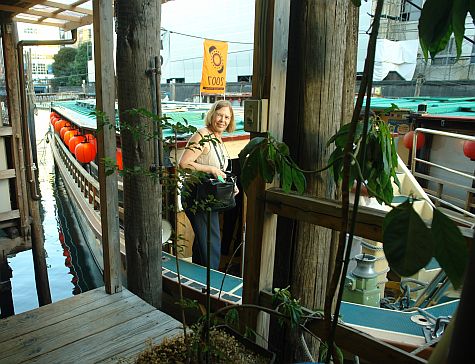 As it turned out, none of our Japanese guests had ever been on such a cruise before. We all shared this as a new experience. At one end of the long table was the karaoke — which we didn't use — as well as dispensers for sake.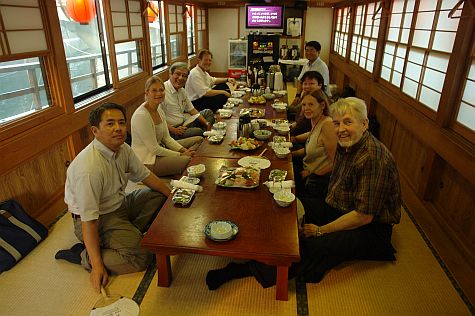 The meal included sashimi, tempura and sake. The sauce for the tempura was served warm. Here, Yoshi offers some sauce to Jennifer.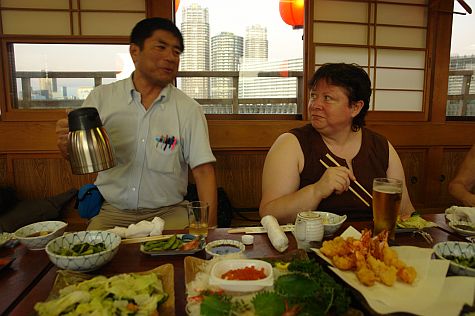 By sunset, we reached our destination in Odaiba, and climbed up on the top deck for a look at the Rainbow Bridge. This seemed to be a popular spot for dinner cruises … and we were certainly on the smallest boat!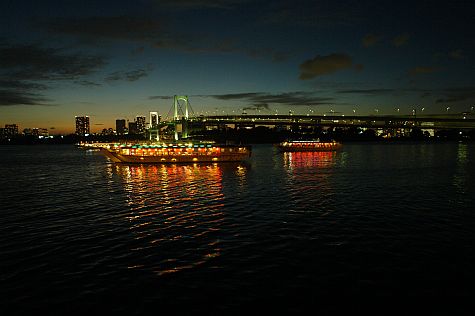 Looking the other direction, we could see the amusement parks and shopping centres of Odaiba.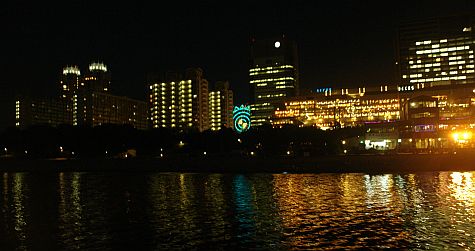 Much of my business travel is booked pretty solid with work, so I don't get to see much other than hotels and offices. Everyone once and awhile, however, I manage to steer the agenda so that colleagues can get to know each other in a more relaxed context.