I enjoyed jazz guitarist Michael Occhipinti's 2000 Creation Dream: The Songs of Bruce Cockburn album, where he reinterpreted the compositions of Bruce Cockburn (who is a pretty great guitar player, himself!) With the same group of musicians, Occhipinti recently released a new album Chasing After Light. One of the disadvantages of travelling so much is that I sometimes miss performance that I'd like to see in town. Occhipinti plays in (and leads) many different permutations of musicians, so I noted that he was scheduled with the "Sicilian Jazz Project" for the Luminato Festival.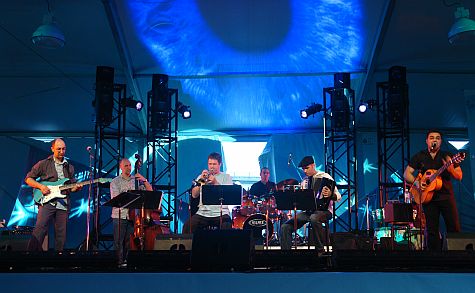 Each of Occhipinti's jazz projects has a different feel. The instrumentation of this group — including accordion and trumpet, with vocals in Italian — built on traditional songs with a Mediterranean feel. As the solos were played out, however, there was no doubt that this was a band of jazz musicians.
Occhipinti said that this group has been in the studio, and is accumulating recordings for a new release. After the show, I got a copy of Chasing After Light from him, and he autographed it — noting that others may have been scared away from the outdoor venue by impending storms. (I biked over!)
The Distillery District still is still developing a following as a venue of choice in Toronto. It's great that such an area has been under development — renovation of some buildings is still underway — and the area will gradually become a primary attraction of the city. The Luminato Festival is a new event for Toronto, so we're lucky to have enough open venues to accommodate more music and art.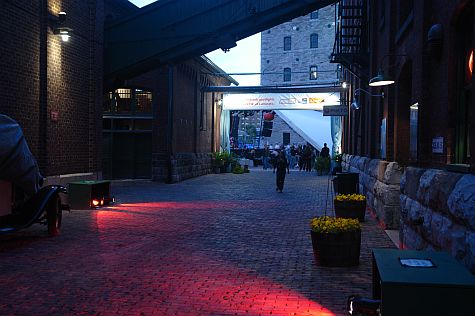 As a coincidence while taking photographs, I saw Wayne — who I probably met 20 years ago, and is now retired after 30-plus years with the company. We talked for a few hours until they closed up the coffee shop. He's been making up for lost recreation time by bicycling around Toronto and learning photography. I've been fortunate to incorporate these hobbies into my regular life. (I wish that I could bike more!)
daviding June 8th, 2007
Posted In: distractions
Tags: chasing-after-light, creation-dream, luminato, michael-occhipinti, sicilian-jazz-project