Diana and I are big fans of markets, so the Tsukiji Market — officially the
Tokyo Metropolitan Central Wholesale Market
— is a natural destination. The
5 a.m. tuna auction is now closed to tourists
, and despite encouragements by guidebooks to arrive
before 9:00 a.m.
, we didn't actually find the fish market until 10:00 a.m. We didn't see any whole fish, but fishmongers were still cutting down sizeable chunks.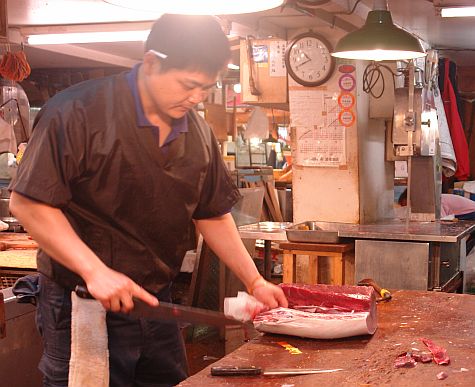 There was a lot of activity to carefully wrap up the tuna. I've seen pieces this large at our local fish store in Toronto.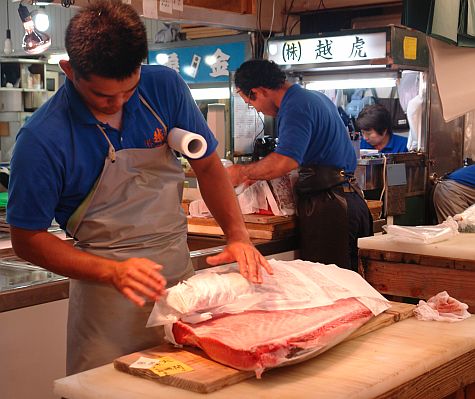 For those who really want their fish fresh, small packages of sashimi were available from some stalls. The market is really supposed to be wholesale, but enough tourists must visit to site to make the work worthwhile.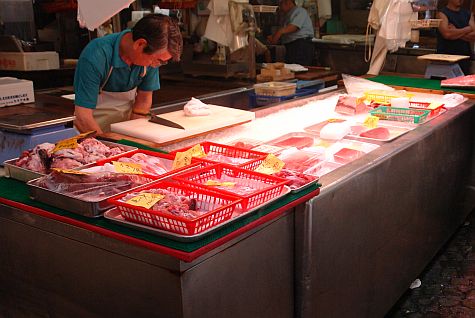 While the tuna wholesalers seemed to be close to ending their day, there were lots of shellfish vendors still active.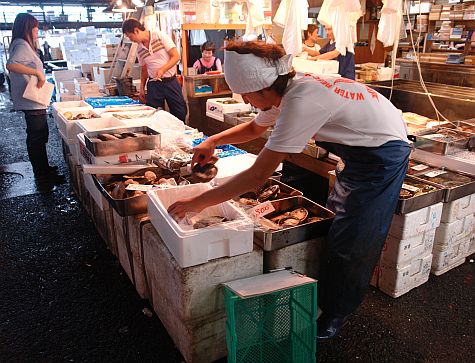 In addition to the mussels and clams at one stall, there was a large selection of squid.
I've seen octopus before, but it hasn't occurred to me that it would come in so many colours.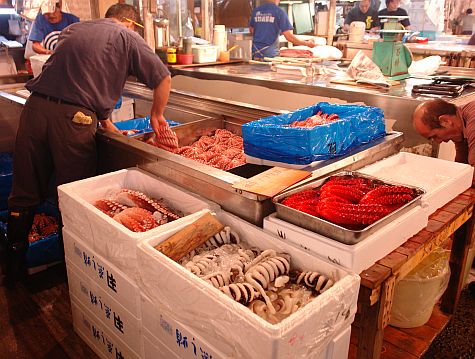 As tourists trying to stay out of the way of ongoing business, we were on constant alert to avoid the compact trucks moving down major lanes.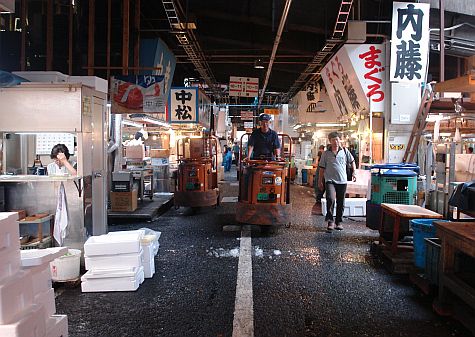 Here's one truck hauling garbage … or would the contents have any value for fish stock?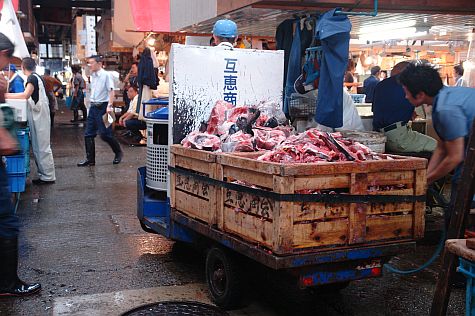 Some buyers would ride in the market on motorcycles, and stack purchases behind the driver. Here's a scooter with a more sophisticated baggage compartment.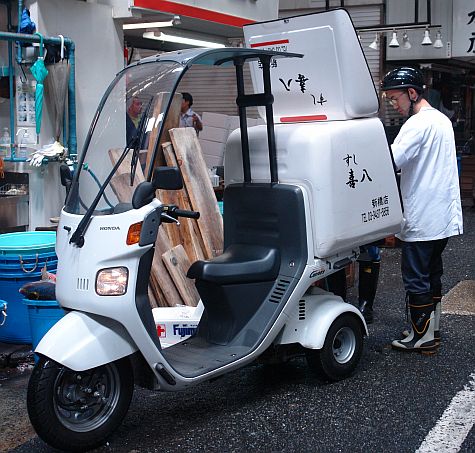 The wider lanes in the market are intersected by narrower aisles. In there, the hand carts are used to move merchandise manually.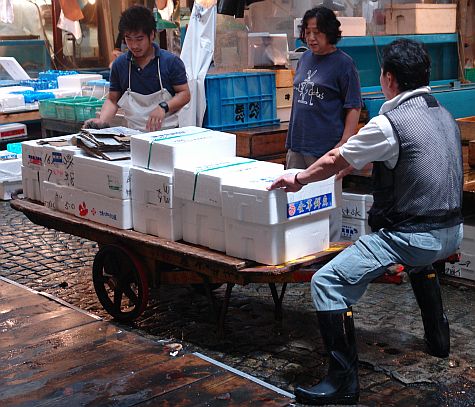 Outside of the stalls for fish vendors is a loading area. By 11:00 a.m., only a handful of trucks were still around.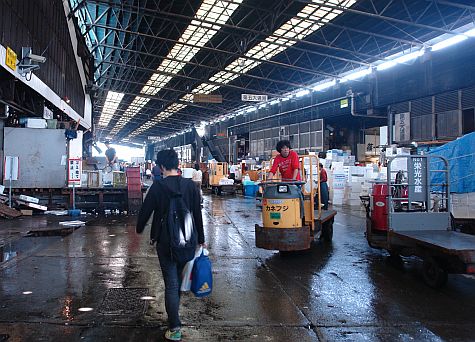 In the loading area, we found a vendor who supplies ice to the fishmongers inside.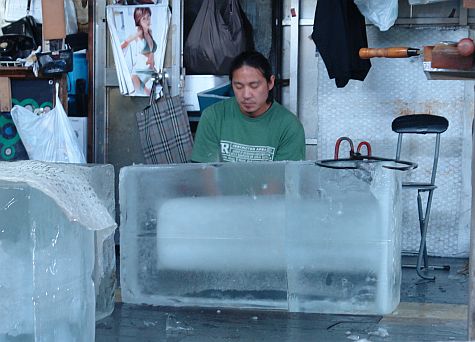 With the hand carts empty, we can see how they've been painted to distinguish one from another.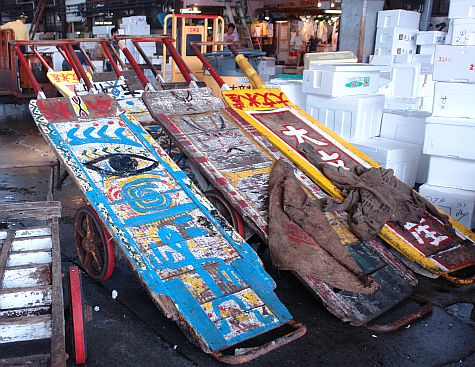 A short walk across the parking lot, we found the vegetable and fruit market. This area wasn't as frantic as the fish area. Fresh corn was in season.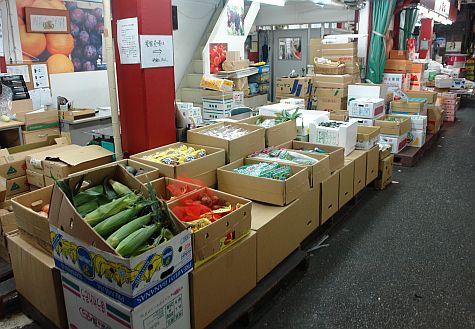 With boxes of peaches and melons on display, I was tempted to ask about how much a case would cost, but it's a lot of fruit.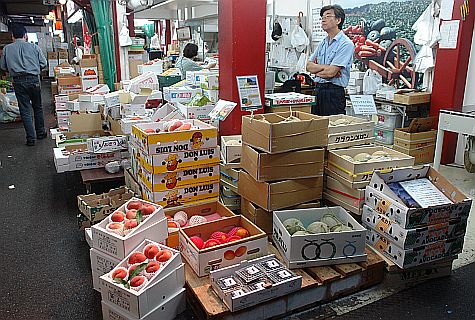 Out at the loading area for the vegetable and fruit market, the feeling is much more industrial: cartons neatly stacked uniformly.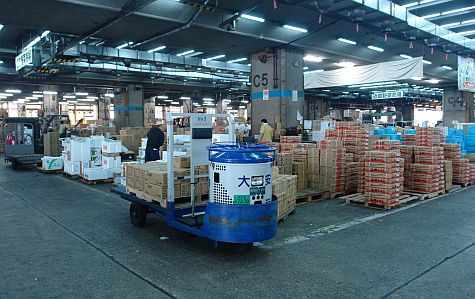 This truck was a little smaller than a North American transport. A side loading truck makes more sense, because there's better access to the contents.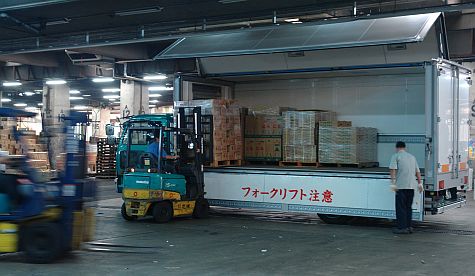 Beyond the vegetable and fruit market were a small cluster of restaurant supply stores. Diana was looking at some paper place mats for potential craft projects, but decided that a package would be heavy in the luggage on the plane home.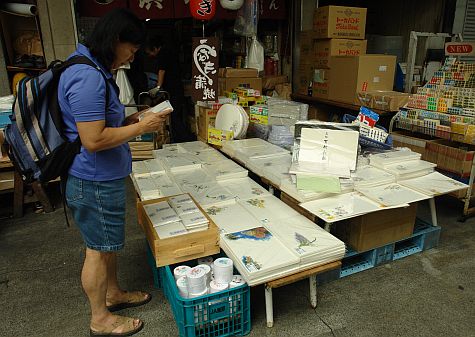 One stall had a great selection of knives. The shopkeepers were busy sharpening.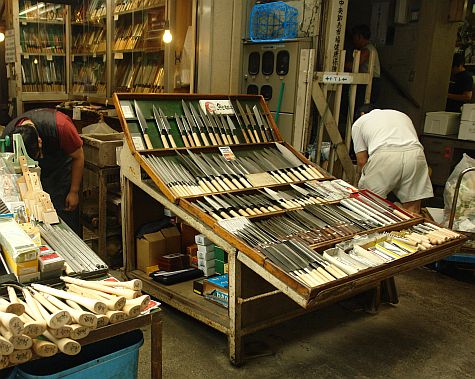 A stall specializing in dried goods offered fruits and vegetables much like we've seen in Chinese stores.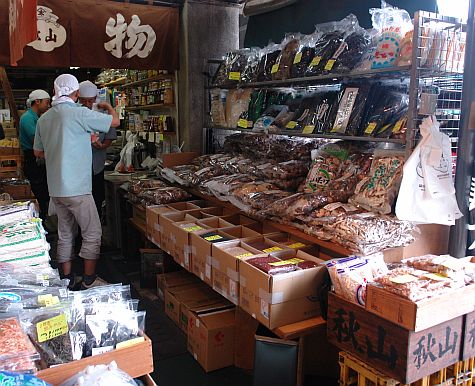 At the end of the market is a small number of restaurants. The ones selling noodles or meat were modest and filled with Japanese customers. The ones serving sushi and sashimi were grander.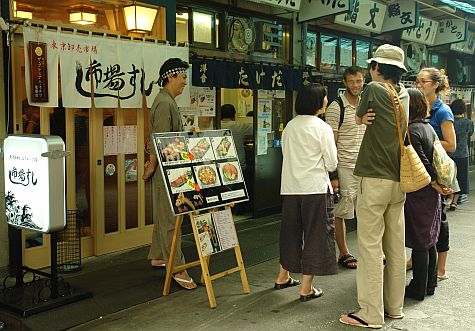 One restaurant presumably had been written up in tourist guides, and had a huge line up waiting.
My additional research suggested that the restaurants at the Tsukiji market serve fish no fresher than at other restaurants in the city. I can imagine tuna being delivered by a motorcycle within 30 minutes of leaving the wholesaler. Diana and I decided that the elevated price and crowds weren't an attraction, and thus planned lunch to have elsewhere.