Routing back from the
ISSS 2011 meeting in Hull
, Diana, Adam, Thuy and I stopped over for a few days in London.  From King's Cross, we rode the underground to go to the hotel in
Earl's Court
.  I might have checked the map more closely, as the
West Kensington
or
West Brompton
stations would have have been closer.  Our luggage is on wheels, but we had a long walk.
[See the Earls Court album of 9 webphotos (with a slideshow option)]
Our sightseeing started around Pimlico, where we unexpectedly found a summer show of graduate works at the Chelsea College of Art and Design.  The installation by Minji Lee was one of the more intriguing.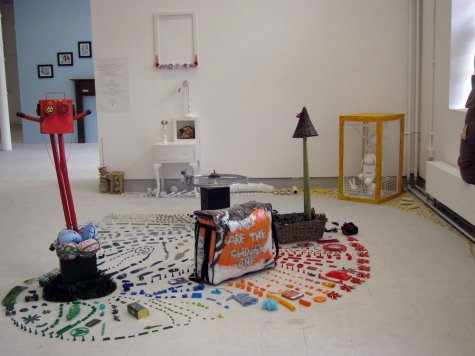 [See the Chelsea School of Art of 15 webphotos]
Across the street, at the Tate Britain Gallery, we encountered voices in the upper gallery, so we timed a response to oooh back at them.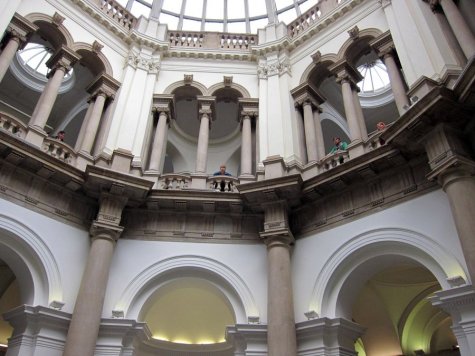 A body movement artist mimicked anyone who entered her range, so Adam tried to challenge her with less conventional poses.
[See the Tate Britain album of 6 webphotos]
The Borough Market offers a wide variety of fresh local produce and meats.  We moved from place to place to dine al fresco (i.e. standing up).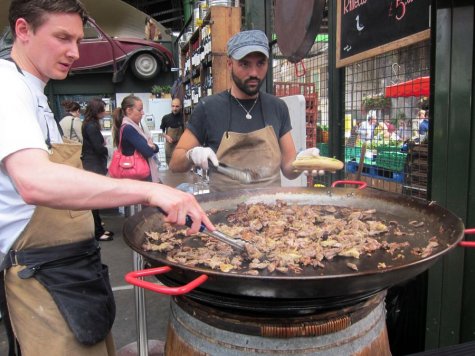 [See the BoroughMarket album of 12 webphotos]
The Design Museum has features notable objects, both everyday and unique.  Guitar Hero is part of the everyday.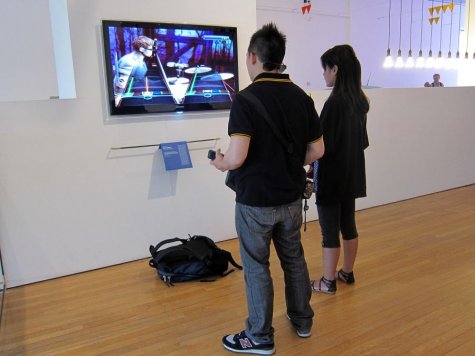 [See the Design Museum album of 3 webphotos]
The Turbine Hall of the Tate Modern was vacant on this visit.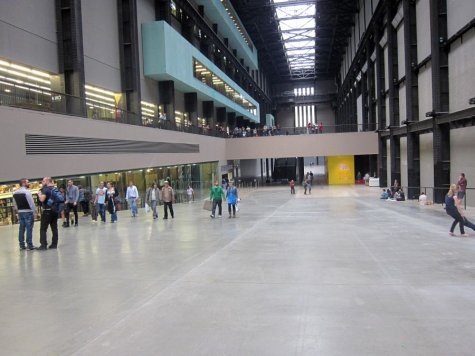 [See the Tate Modern album of 7 webphotos]
From the South Bank, we crossed over the Millennium Bridge, to walk towards Piccadilly Circus and Chinatown.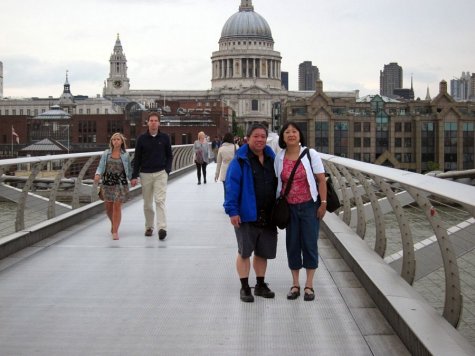 [See the MillenniumBridge-Picadilly-Chinatown album of 13 webphotos]
DY and I saw the Saatchi Gallery on Boundary Road in North London, and I visited the gallery when it was in County Hall on South Bank.  This was our first visit to the location at the Duke of York's HQ near Sloane Square.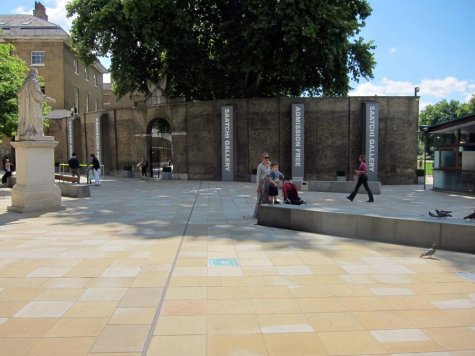 [See the Saatchi Gallery album of 24 webphotos]
Dav and LJ joined us for shopping at Petticoat Lane Market, and then Indian cuisine at Brick Lane.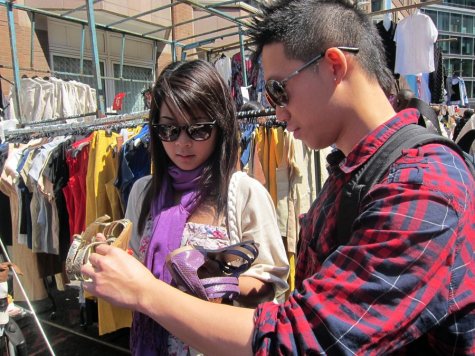 [See the PetticoatLane-BrickLane alboum of 28 webphotos]
We arrived at Camden Town late in the day, so most of the temporary stalls either closing or closed.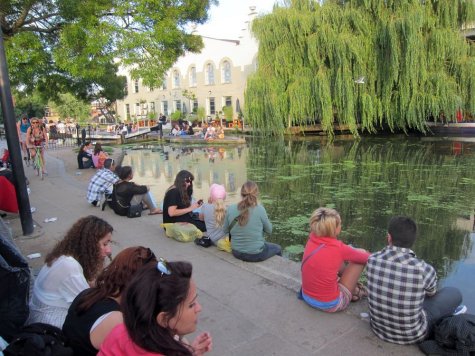 [See the Camden album of 8 webphotos]
We budgeted a few hours to visit the Victoria and Albert Museum.  The venue is mammoth, so we tried to be selective, wending our ways through the mazes of hall.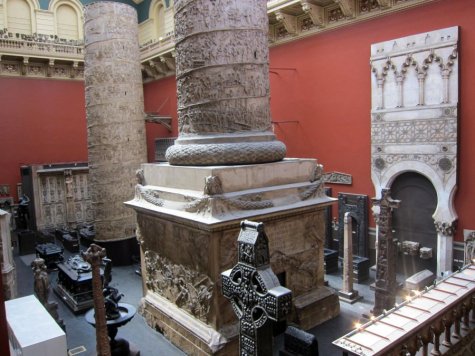 [See the Victoria & Albert Museum album of 12 webphotos]
To close the loop on some history of science, I had contacted the Tavistock Institute of Human Relations, and scheduled to visit their offices in East London.  This satisfied a personal curiosity, since I had visited the old site near Swiss Cottage in 2009, .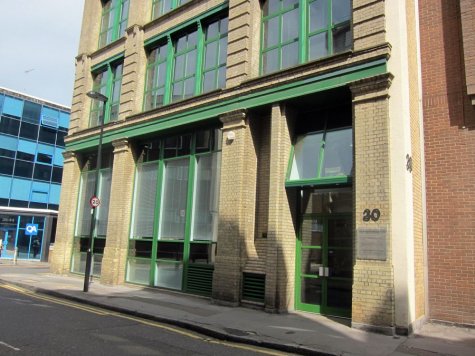 [See the Tavistock and Chinatown album of 3 webphotos]
I travel through London regularly, know the city well, and am comfortable getting around.  Travelling with the family at tourist speed is a luxury.