Routing back from the ISSS 2011 meeting in Hull, Diana, Adam, Thuy and I stopped over for a few days in London.  From King's Cross, we rode the underground to go to the hotel in Earl's Court.  I might have checked the map more closely, as the West Kensington or West Brompton stations would have have been closer.  Our luggage is on wheels, but we had a long walk.
[See the Earls Court album of 9 webphotos (with a slideshow option)]
Our sightseeing started around Pimlico, where we unexpectedly found a summer show of graduate works at the Chelsea College of Art and Design.  The installation by Minji Lee was one of the more intriguing.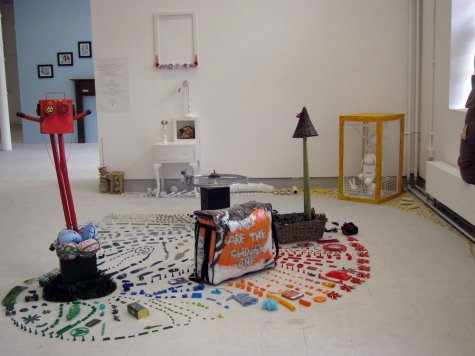 [See the Chelsea School of Art of 15 webphotos]
Across the street, at the Tate Britain Gallery, we encountered voices in the upper gallery, so we timed a response to oooh back at them.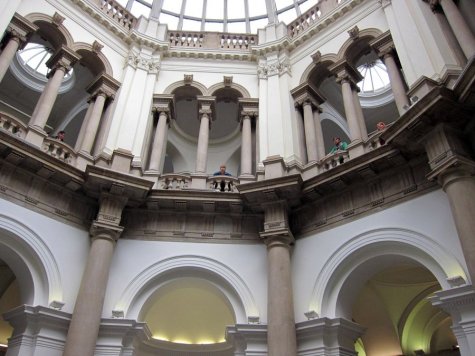 A body movement artist mimicked anyone who entered her range, so Adam tried to challenge her with less conventional poses.
[See the Tate Britain album of 6 webphotos] Read more... (498 words, 12 images, estimated 2:0 mins reading time)
daviding September 7th, 2012
Tags: borough market, brick lane, camden town, chelsea school of art, design museum, geo:lat=51.490601, geo:lon=-0.196741999999972, geotagged, london, millennium bridge, petticoat lane, saatchi gallery, tate britain, tate modern, tavistock institute, victoria and albert
Coming into London from the south suburbs for the day, I found my way to the Tate Britain.  I haven't been to this art museum before.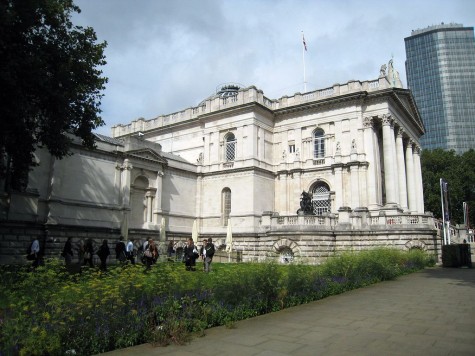 I had read about "Art with Legs" in the Toronto Globe and Mail, so I was looking forward to Work No. 850, by Martin Creed.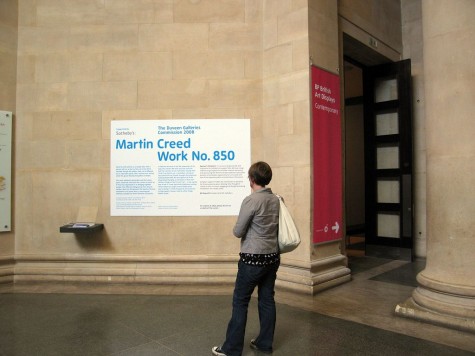 The sign reads:
Work No. 850 centres on a simple idea: that a person will run as fast as they can through the gallery. Each run is followed by an equivalent pause, like a musical rest, during which the grand Neoclassical gallery is empty.

This work celebrates physicality and the human spirit. Creed has instructed the runners to sprint as if their lives depended on it.
So, I wasn't surprised to see  a runner dashing down the long hall.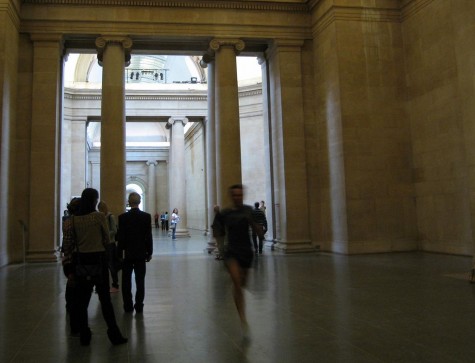 I moved over to the side, and a few minutes later, a different runner came through the hall. Read more... (290 words, 11 images, estimated 1:10 mins reading time)
daviding September 14th, 2009
Posted In: travel
Tags: martin creed, tate britain