Every few months when in town, I try to schedule lunch with Dan. We discuss business research, while I'm still working things out. This helps me because I learn while explaining ideas to Dan, and he appreciates the discussion because I don't seem to see the world the same way as other people.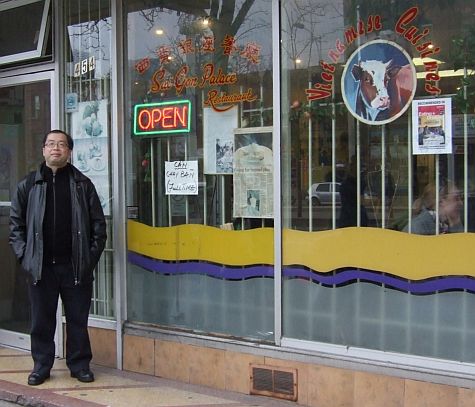 Read more... (160 words, 3 images, estimated 38 secs reading time)
daviding December 28th, 2006
Posted In: distractions
Tags: Robarts-library, saigon-palace
David hits the stacks at the university, in the evening when it's not busy.
(by David):Â  I have an alumnus library card for U. of Toronto, but access to journal articles requires full-time enrolment. The university library has a few public access terminals up in the stacks, so I can read the full selection of journals if I go to the university in person.
It's a bit annoying that the university changes protocols every fall, so it takes a bit to find out the new ways. When I was at the university a few weeks ago, I couldn't find the public access terminals amongst the two dozen that are immediately in front of the elevators on the 11th floor (where the business and economics books are). This time, I decided to try to find the terminals on the 9th floor. They turned out to not be outside the elevators, but hidden away in the stacks, near the books. The PCs have all been replaced, so the screens are a lot sharper than they used to be.
Between 9 p.m. and 11 p.m. on a Wednesday night, it was relatively quiet. Students living on campus should be able to access library resources with their IDs, so they wouldn't physically have to be in the Robarts building. Read more... (282 words, estimated 1:08 mins reading time)
daviding October 23rd, 2005
Posted In: reading