Four days of family vacation in Bejing included the China Ethnic Culture Park, the Ming Tombs, Great Wall at Badaling, Forbidden City, Xidan, and the 798 Art Zone.
In the ultimate family trip, we started a 26-day journey of China and Vietnam in Beijing. By the end of the trip, we would have 8 people in the group. On our first stop in Beijing, five of us flew together.
We picked a hotel near the Olympics site.  We knew the location was by the Beitucheng metro station in north central Beijing, but hadn't appreciated that there would be a pond just east.
[See the album of 23 Pearson-Beijing webphotos (with a slideshow option)]
The pond east of the hotel is on the west side of the Chinese Ethnic Culture Park.  Headed out for sightseeing on our first morning in Beijing, we thought that we might spend an hour or two in the culture park, and then move on.  Once inside, we rediscovered the park was much larger than anticipated.  The existence of the park focused on ethnicity is itself a surprise, as the vast majority of the country is populated by Han Chinese.  The south end includes reproductions of buildings in the Uyghur style, as would be found in the Xinjiang northwestern region of China.
On the east side of the Ethnic Park was a large bridge depicting the She (Hakka) region in southwest China.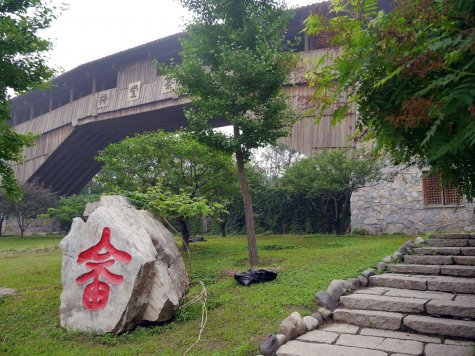 From the Gelo house, we could look at stream depicting the Maonan ethnic minority, both from the southern China.
Prominent in the middle of the Ethnic OPark was a reproduction of the triple pagodas, as found near Dali City in southwestern Yunnan, Continue reading "2013/06/29-07/03 Beijing"