For our visit to Japan (13 days for Diana, 23 days for David), we planned to see the three must-see locations: Kyoto, Nara and Tokyo. The first two are closest to the
Kansai International Airport
, on the edge of Osaka, so we booked open jaw flights with the plan to take trains in between.
Since neither North American (CDMA) nor European (GSM) phones work in Japan, I first picked up a mobile phone at the airport that I had reserved a week in advance. The rail station is right at the KIX airport, so it's easy to roll luggage right up to the track.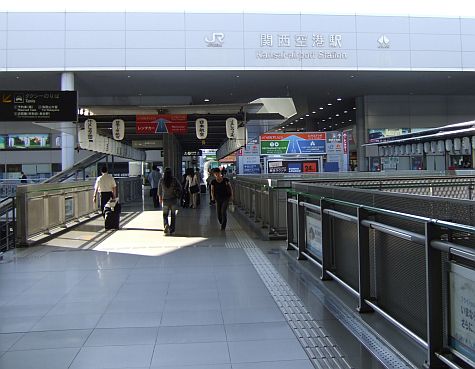 There's two options for trains from KIX to Kyoto: the 70-minute direct Japan Rail Limited Express; and the Kansai Thru Pass that allows unlimited travel on non-JR trains, subways and many buses throughout the region. Since we were also planning on going to Nara within the first few days, we opted for the latter.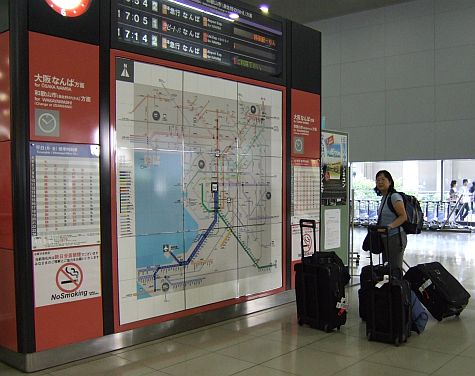 The style of Japanese rail maps is logical, but complicated. I was armed with the Rough Guide to Japan (with lots of detailed writing) and the Lonely Planet Japan (more places, but fewer details). In addition to the maps from the Japan National Tourist Office in Toronto, the ticket came with a map outlining the train routes.
Since we were on the train shortly after 5 p.m., we should have made it through to Kyoto within two hours, before the sun set. The green (Nankai) line ended at Namba, and we rode it to the end. When we got off the train at Namba, we went to change trains … and discovered ourselves in the middle of an Osaka shopping mall. Unlike our prior experience in North America and Europe, these small (non-Japan Rail) lines really aren't any different from subway cars. Connections underground sometimes stretch to 1 km walks, which was a lot while we were dragging luggage behind us.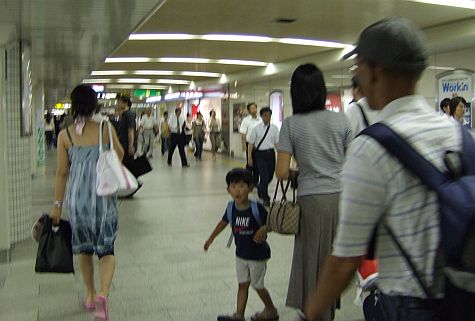 In 20/20 hindsight, we should have changed two stations before Namba, at Tengachaya, where a lot of other people had gotten off. This would have saved us one train change while aiming for the connection to the Hankyu Kyoto line at Awaji. From Namba, we had to go east one stop to Nipponbashi, and then change again to go north to Awaji. Fortunately, all of the stations had elevators, although we found ourselves walking platforms in circles again and again, to access those elevators.
At Awaji, we asked a train conductor, who almost knew enough English to suggest that we wait for three trains to pass, before an express train for Kyoto came. On the Hankyu Kyoto line, we got off at the Omiya station, which seemed to be closest to the Comfort Inn Kyoto Gojo without changing lines again. From the map, Gojo is the next major street south of Shijo, so we thought that it would be a short walk. By this time, it was dark, but the streets around the subway station are well lit, and busy with pedestrians. We probably should have taken a taxi, because what we thought might be a 15-minute walk turned out to be more than 30 minutes … again, pulling luggage behind us on wheels. The weather was hot and humid, so we appreciated the free orange juice and water in the hotel lobby when we arrived.
The first lesson of Japanese maps — which we've validated with other travellers trying to similarly determine routes — is that they value logic over scale. Even with two or three different maps or tour books describing the same terrain, it's difficult to figure out how far apart two places are from each other.
With loosely connected flights at the beginning of the trip — Toronto to Vancouver flights are harder to get on frequent flyer points — Diana and I arrived at the hotel after 27 hours of travel. The trip from the airport could have been a bit easier, but our misdirections provided us with some learning.
The Kansai Thru Pass did turn out to be convenient, so that we didn't have to fumble for change at we got on and off buses. In the hot and humid Kyoto summer, it seemed worth catching the bus even for short hops of 2 or 3 stops, because we could never be quite sure how far the walk to the next sight would be.
P.S. I took 1000 photographs on this trip, so it will take me quite a few postings to describe our vacation in Japan. Stay tuned!