Routing a flight through the UK is generally fortuitous, because it's on the way to Finland. Since I've been coming to the Helsinki area relatively steadily during since 2003, I've developed a routine of doing similar things when I'm in town. On this trip, Minna and I co-taught a class at
Stadia
. One difference on this occasion was the grand meeting room, which is an improvement over the basement lecture hall.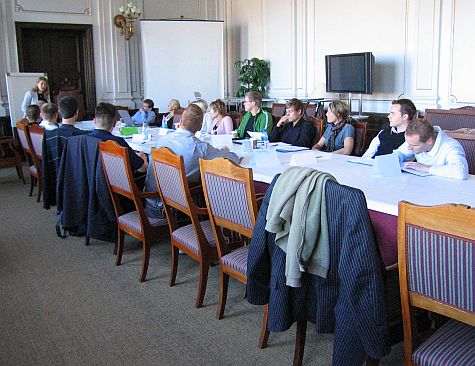 When I stay at Taina's house, my schedule follows her commute pattern. Picking up Rulle from tennis lessons in Munkkiniemi puts us near warehouse shopping, so we stock up the pantry.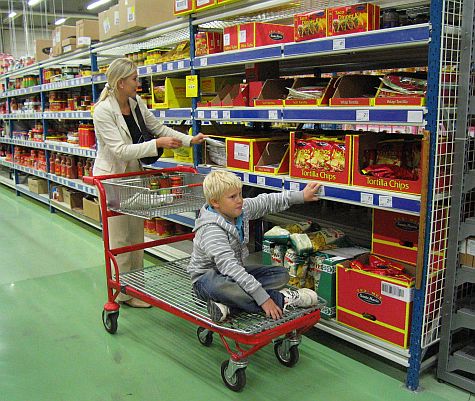 On weekends, there's an opportunity to prepare a leisurely dinner. This time, at Taina's house in Soukka, we decided to cook Chinese food — an improvement over the choices available in local restaurants.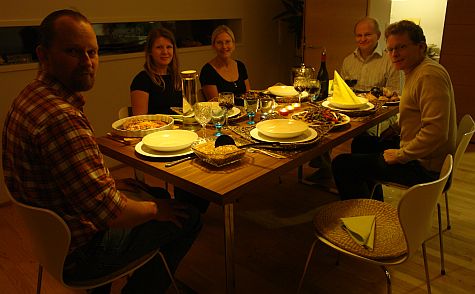 With weekday schedules full, visiting people sometimes rolls into family time. I suggested to Saku that we could talk while taking the kids to the park. One was on a training bike, and the other was in the carriage, when we had tea at the cafe by the seashore at Matinlahti near his house.
I've been around Helsinki often enough to know the sights. Rick was visiting Stadia from his university in Illinois, so we scheduled a leisurely afternoon together. We went to the computer superstore in Ruoholahti looking for a cable for his laptop, but didn't find what he needed. On the way back, we walked by the west harbour where there are shipyards.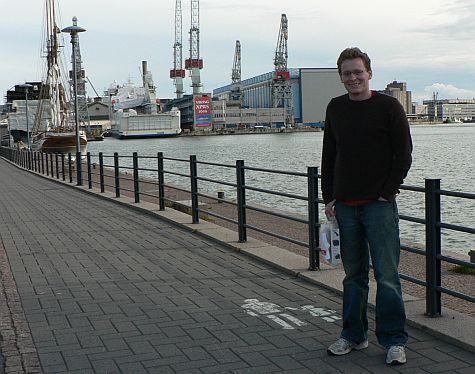 Social networks can be funny. When I was a conference in Berkeley, California, in spring, I happened to meet Johan who is from Helsinki. It turns out that he's good friends with Karlos, whom I know from HUT, and I see regularly. We took the opportunity to schedule a dinner at Tapiontori together to discuss research interests.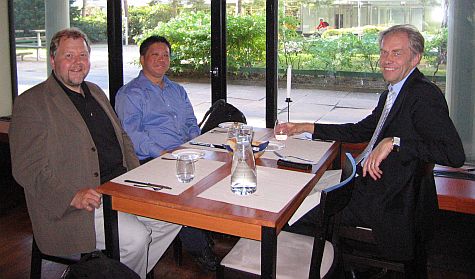 One office where I've often met is at Nokia House in Espoo. I happened to bring my camera this time. Here's the front entry, with a glass bridge over to the parking garage.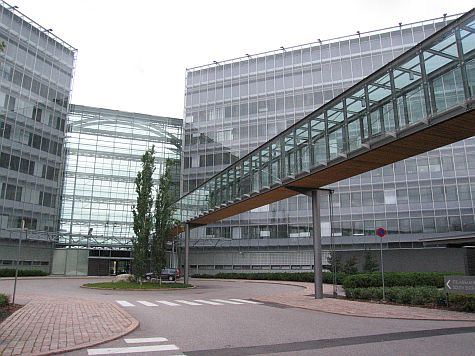 I've often found the front lobby to be warm. It could be because it's a greenhouse effect, or it could just be that Finns like their buildings warm.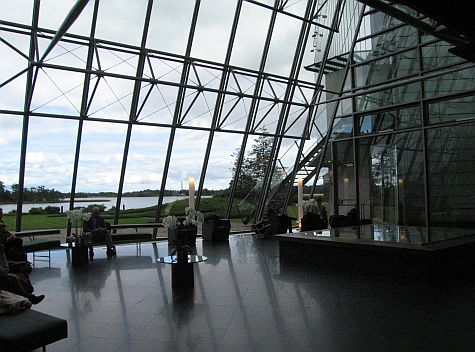 Minna usually takes advantage of my frequent visit, so that I get to have face-to-face conversations with some of her colleagues. This time, I met Minnamaria.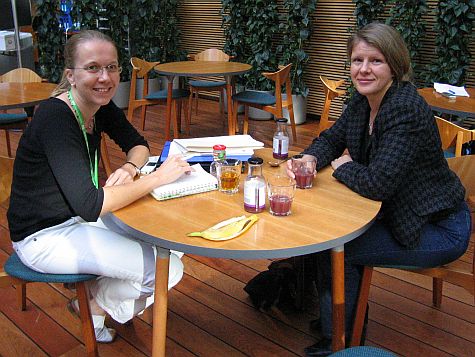 The coffee bar is by a display of Nokia devices — I think that they use the layouts to plan some of their showrooms.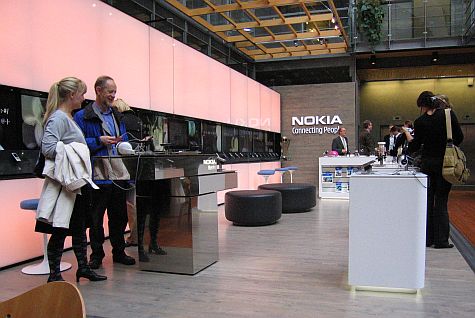 As much as I tend to live on the Internet, my travels to distant places gives me the opportunity to be in the physical world.