When I left Tokyo in August, I took the
bus from Shinagawa to Narita airport
. On this trip in, I
came from the airport
on the
Japan Rail Narita Express train
. This Saturday afternoon departure had an easy schedule out and I felt adventurous, so I tried the third (slightly cheaper) option: the
Keisei Skyliner
. My luggage is on wheels. I dragged the bags the few blocks over to
Tamachi station
.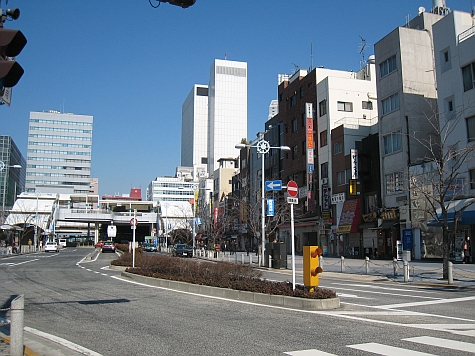 I was entertained by the smoking area in the middle of the block, away from anyplace a pedestrian would object.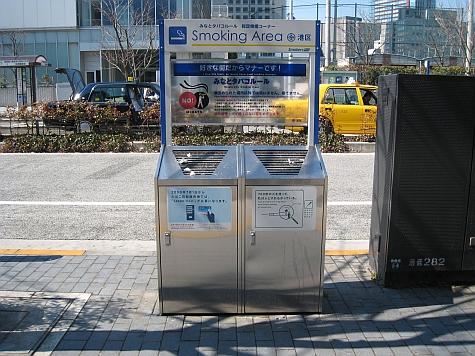 I presume that the translation of the caution is literal.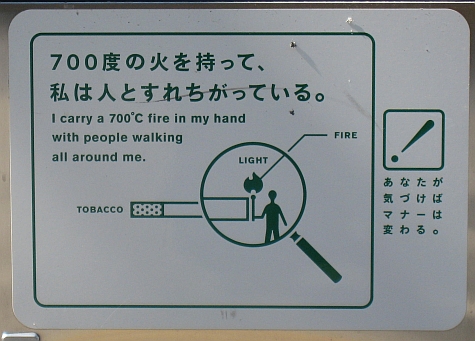 I rode up the escalator into Tamachi station, bought a Japan Rail ticket, and went down to the train platform.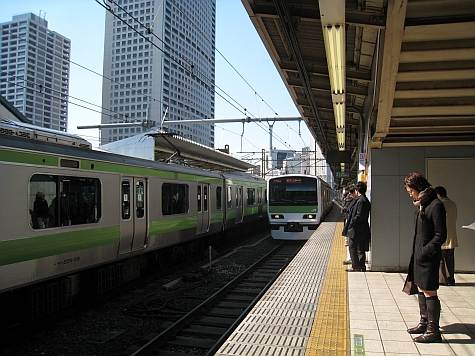 The Skyliner starts at Ueno station, where I think that transferring from Japan Rail to Keisei requires crossing the street. An easier alternative may be to transfer at Nippori, which is a smaller and less popular station.
At Nippori, the directions to the Narita train are well marked …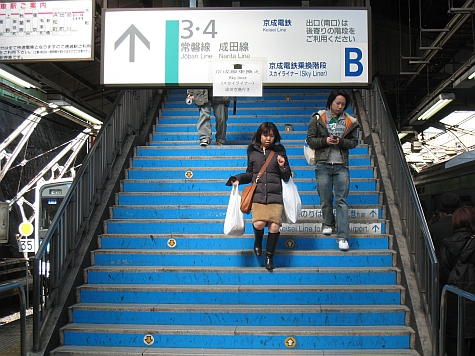 … and farther down the platform is an escalator to handle the trolley cases.
Coming up into the station, I was a bit confused about where to go.
I had ridden Japan Rail to Nippori, but now needed to buy a Keisei ticket. The dispenser is automated with timing for the next train, or reservations for later in the day.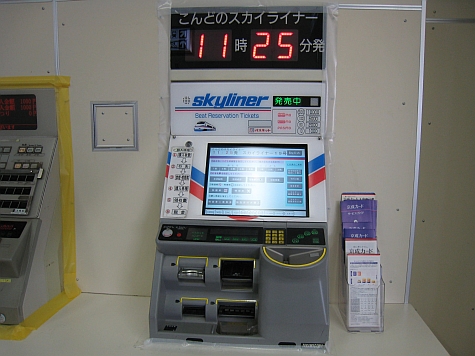 Construction in the station meant navigating a bit of a maze. The waiting room didn't look exciting, so I continued down to the platform.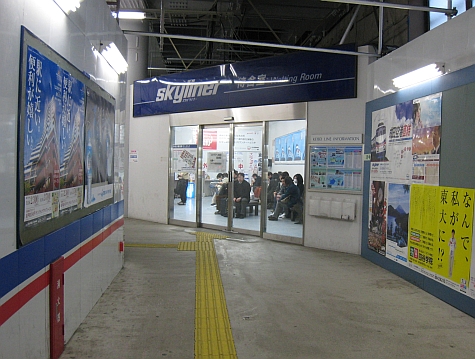 Directions on the floor direct passengers to their seats where the doors will open. I had to wait a few minutes for the Skyliner to arrive.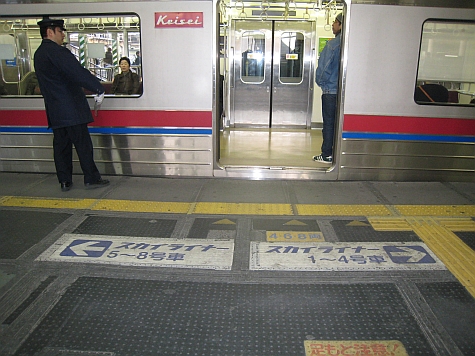 Instead of railway ties between the rails, there were full floors under the trains.
Seats in the train are reserved.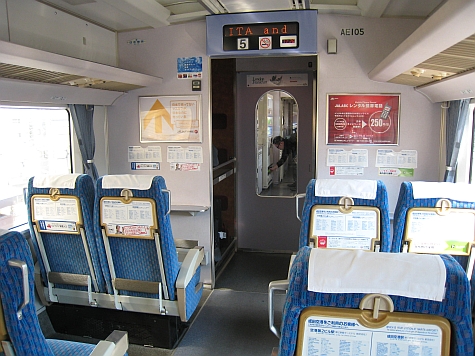 Since my prior ride on the Narita Express was at night, I hadn't seen any sights. My impression is that the Keisei Skyliner runs less out of the way.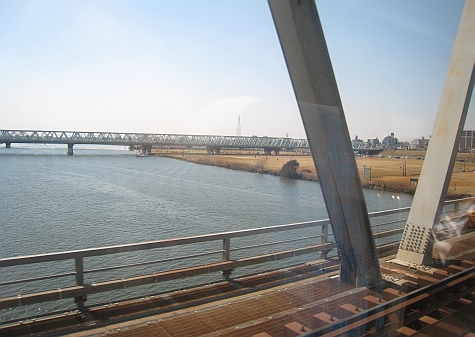 Going through small towns, barricades would come down to stop traffic.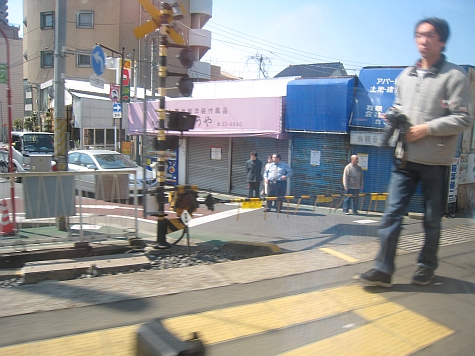 Even little streets have rail crossings.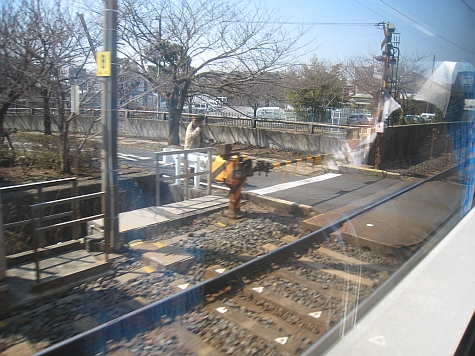 The Skyliner makes just a few station stops.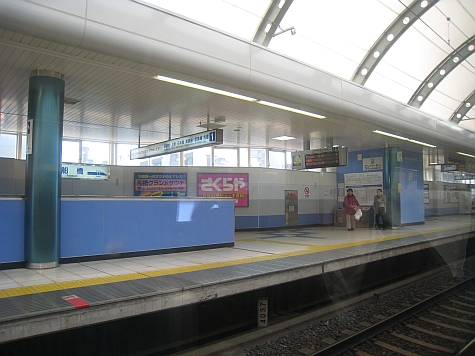 After a while, the towns gave way to fields, presumably farms.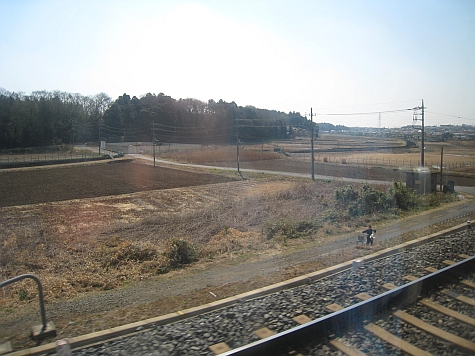 In the spring, maybe planting had started … or maybe not.
A windmill was a bit a strange sight. Maybe it was a resort.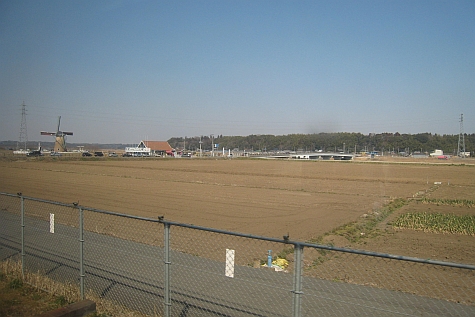 Farther out from Tokyo, the towns didn't look as tight or orderly.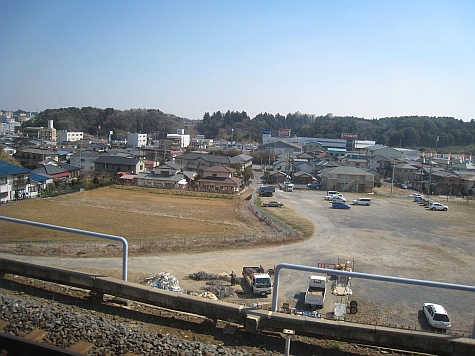 Approaching the airport, there's a lot of large construction.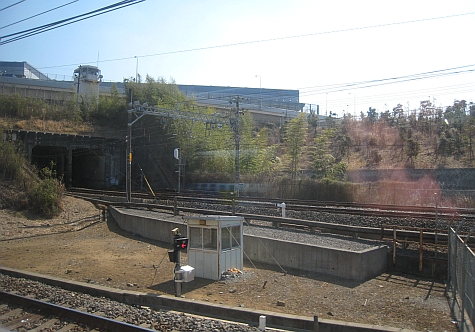 At the station, exiting the train and riding the escalator up brings the trip to the end at the turnstiles.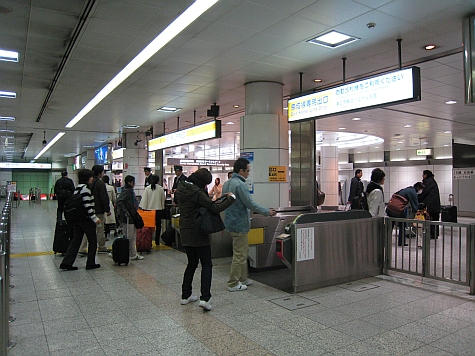 Entering the station, there are inspection stations. The inspectors that day didn't seem very interested.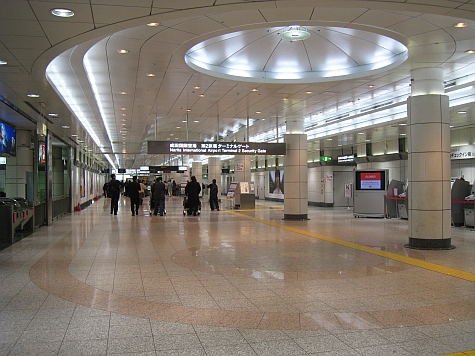 On the way to checkin, I noticed the ticket counter for the train, had I chosen the Keisei Skyliner on the way into the city.
It's right across the aisle from the Japan Rail ticket counter.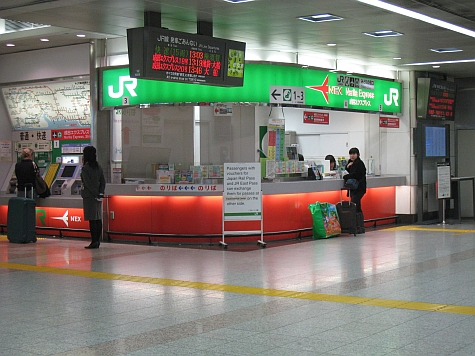 I was boarding an Air China flight for Beijing, which had an extremely long queue. Fortunately, the line moved quite rapidly.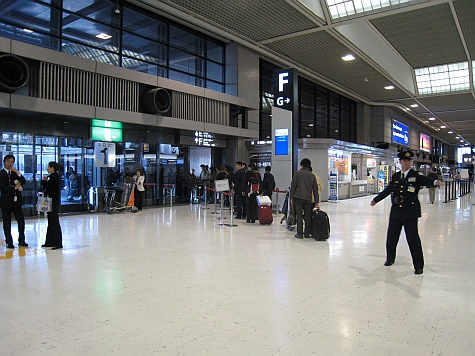 On future trips to Tokyo, I think that I'll plan to take the Keisei Skyliner again. While taking the Narita Express is slightly faster, and would seem to be the more popular way for tourists, transferring from one line to another is required in either case.