As an alternative to a sitting through a morning agenda with disinterest, we squeezed in a visit to the Santa Cruz Beach Boardwalk, toured to the Santa Cruz Mountains, and tasted at the Thomas Fogarty Winery.
The first day of the conference we were attending in Santa Clara was a tutorial, and very educational.  The second day bridged today's technology with advances.  The third morning was about industries in which we didn't have an interest, so we opted to take advantage of our location to visit the Pacific Ocean at
Santa Cruz
, and tour the
Santa Cruz mountains
with the possibility to visit
some wineries
.  It was a little over an hour on a scenic drive to arrive at the
Santa Cruz Beach Boardwalk
.
On a weekday in December, the rides were silent, and we were practically the ones ones in the park.
The Giant Dipper is one of the oldest wooden roller coasters in the United States.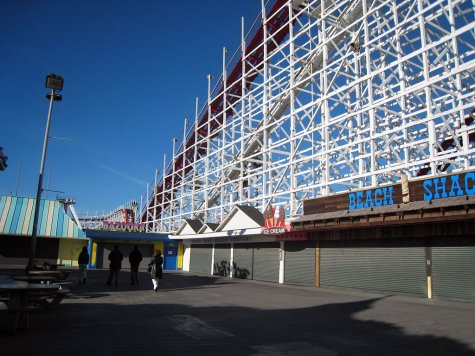 There's irony that the famous boardwalk is now concrete rather wooden boards.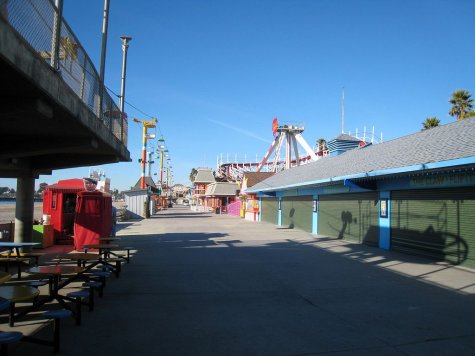 Despite the fact that we hadn't yet walked on the sand, and the park was empty, Stephen wanted to be first in line for the foot wash station.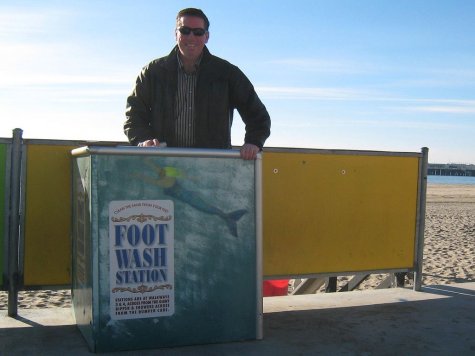 The Sky Ride runs along the beach side of the walk. Continue reading "2008/12/10 Santa Cruz Beach Boardwalk, Skyline Drive, Thomas Fogarty Winery"