Since the stores in Finland stock sushi grade fish, it was easy to put together a dinner party with neighbours
On this trip to Finland, I had bought a wok to use in Taina's house, and had been cooking Chinese food for the week. As a change, Taina asked if I could make sushi on Friday night, for some neighbours to try out. I said sure, as long as we could get sushi-grade fish. Taina called the supermarket, and it turns out that all of the fish in Finland is considered to be sushi grade. Helsinki is right on the sea, and the turnover is high, so freshness isn't an issue.
I cut up the fish and did some demonstrations, but a lot of the fun in having sushi at home is making it yourself. Thus, Pekka was game to roll some maki.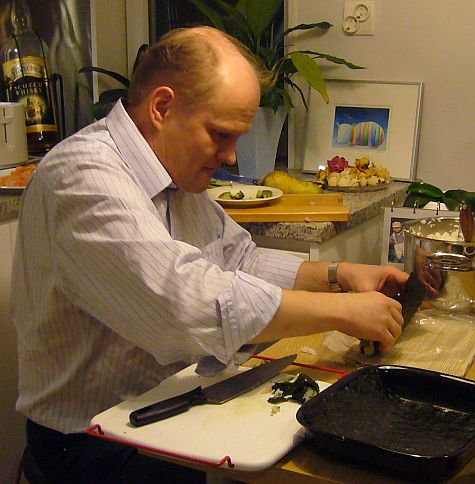 Continue reading "2006/10/27 Making sushi with neighbours in Finland"