One long afternoon to bicycle to and around Peking University, Tsinghua University and Renmin University, and we didn't see everything.
With a free day in a Beijing, I wanted to explore the university district.
Peking University
,
Tsinghua University
and
Renmin University
are all at the northwest side of the city. All have sizable campuses. I hadn't packed my folding bicycle, but a slow and reliable bike was lent to me by a clerk at the hotel. Eric has his own bike, which he says was cheap and is less well constructed than he's had in Canada.
After we had ridden about 20 minutes, the crank pin on Eric's bike fell off. He walked the bike some long blocks down the wide boulevards, and then took us down a side street. On almost any small street, he said, we would easily find a bike mechanic.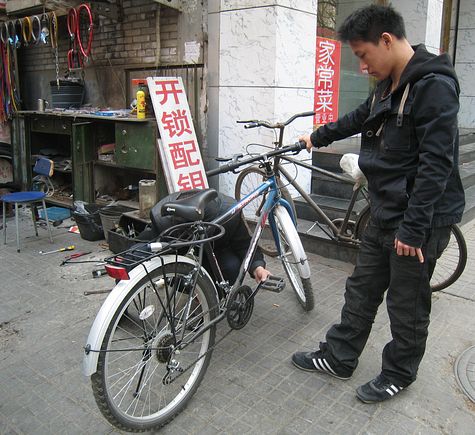 Eric only paid a few cents for the repair. Remounting the bike and riding a block, the crank fell off again. We returned to the same mechanic, who hammered harder. With the bike repaired, we then set out to see the first campus.
Peking University
From the Zhongguancun part of the Haidian District, we had biked north and then east. To cross over the divided road from the east side of the street, we found a pedestrian overpass. We entered through the east gate of Peking University.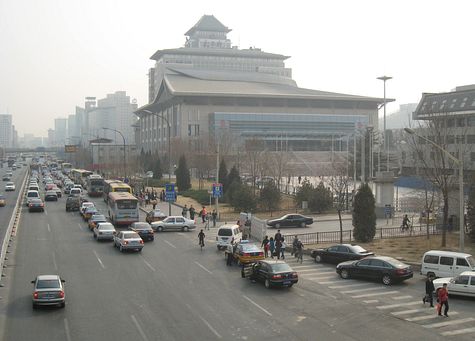 Peking University has been described as the "Harvard of China". In the southeast part of the campus, the buildings are relatively modern.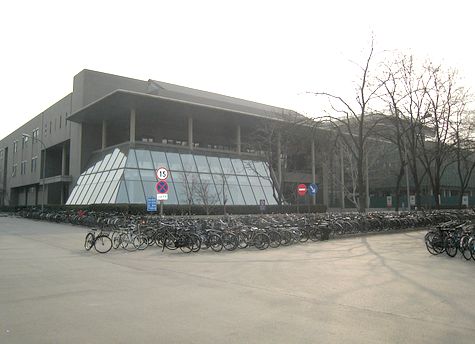 The number of parked bicycles seemed relatively large in comparison to the number of students walking around. Class was in session. Continue reading "2008/03/11 Biking through Peking University, Tsinghua University, Renmin University"