I biked over to Dundas Square for a free concert.
Living in Toronto has it benefits. As the prime urban center in Canada, it gets amenities such as touring musicians. At the same time, the city doesn't approach the size of New York or Shanghai, so it's easy to get around.
With the opening of a new retail store at Yonge and Dundas — part of the new Ryerson University campus — there was a "free" concert. I biked over, and there was a large crowd all the way across to the Toronto Eaton Centre. As the crowd thinned, I got a bit closer, but the sound was still better than the view. Can you see?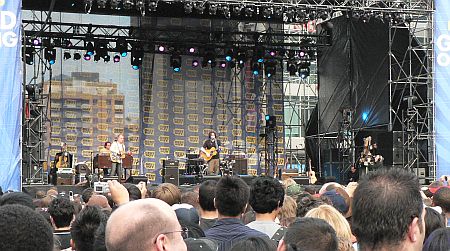 Continue reading "2006/09/16 Free concert on Dundas Square"