Diana and I decided to walk from one major shopping area to another:
from Shibuya Center Gai to Harajuku Takeshita Dori
. The shops start just outside the subway exit.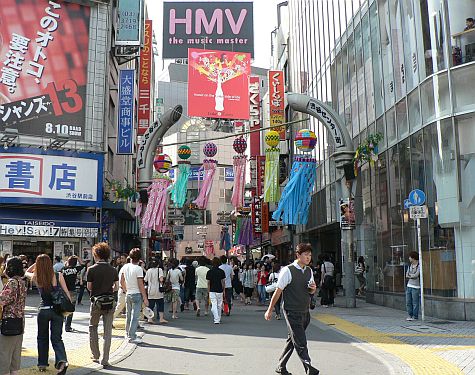 Walking northwest takes us into the shopping streets of Udagawacho.
We weren't buying, but browsed in a used clothing store.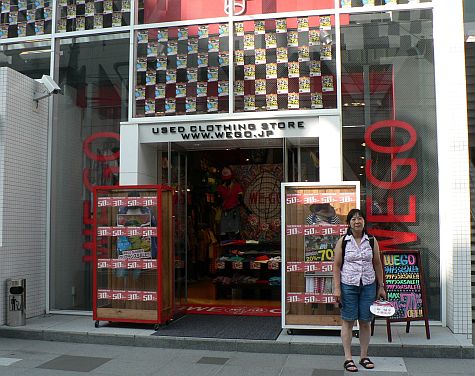 The curved streets took us too far to the west and north, so circling back, we found Tokyu Hands — a lifestyle store.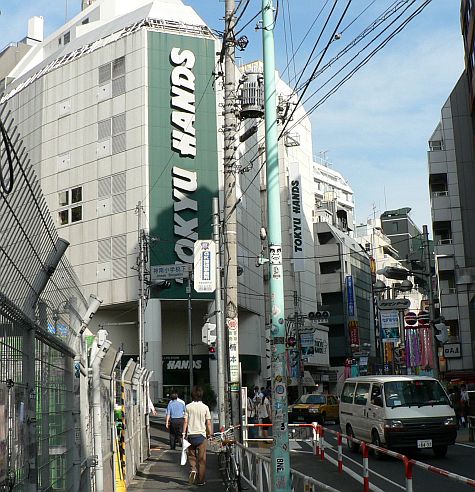 Diana looked at paper craft supplies and tools, including punches.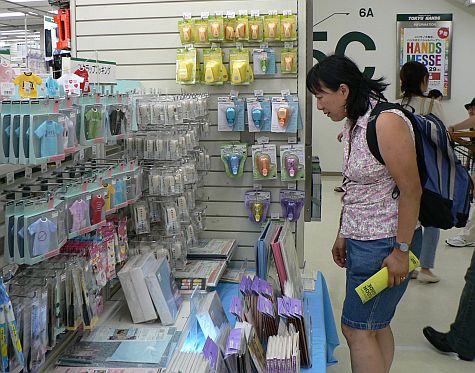 I was interested in the choices of folding bicycles amongst their broader selection.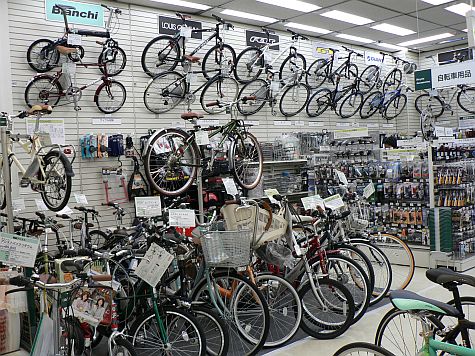 Continuing north, we encountered NHK_hall in NHK Studio Park.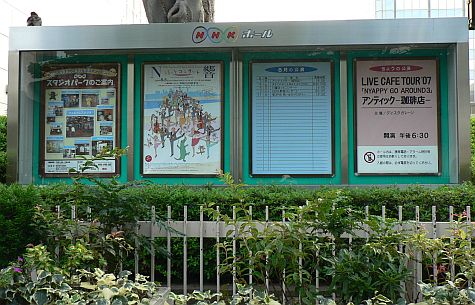 This is where groups of young girls meet to dress up. In the park were some dressed up as maids.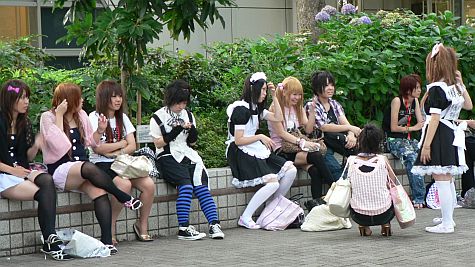 A pair in matching clothes with masks were dragging a suitcase with their street clothes.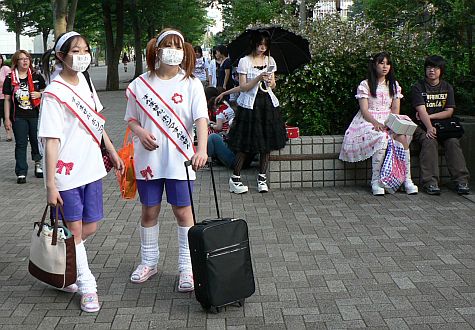 The matching costumes suggest that these clothing combinations aren't random.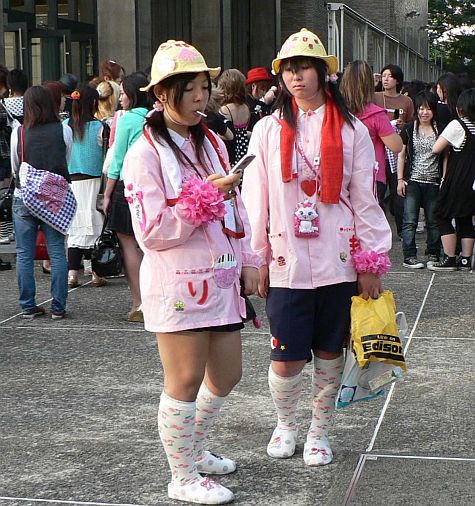 The weather was warm enough to wear floral jinbei and sandals.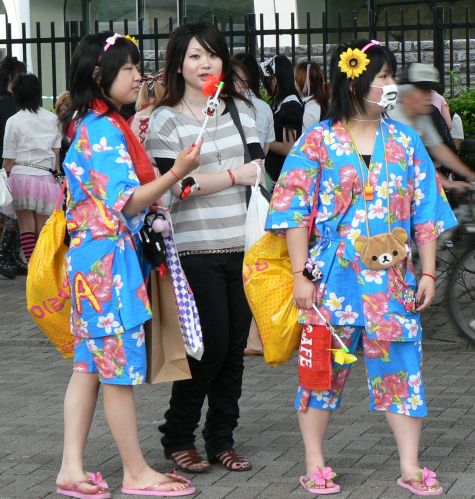 Many girls seemed to be waiting for a show at NHK Hall to start. Texting is a way to pass the time.
Continuing north, we found a bandshell on the fringe of NHK Studio Park.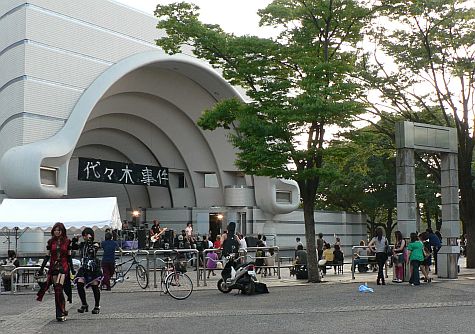 The band looked punkish, but the sound was more rock than alternative.
Further north, we entered Yoyogi Park, one of the larger green spaces in Tokyo.
We crossed over a bridge above traffic to enter Yoyogi Park.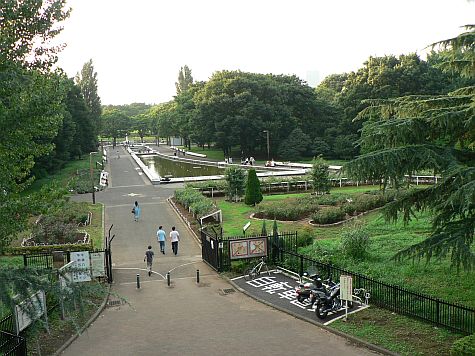 Various musicians took advantage of the open space, including some drummers.
East of Yoyogi Park is the Olympic Stadiums. There's two matching structures, side by side.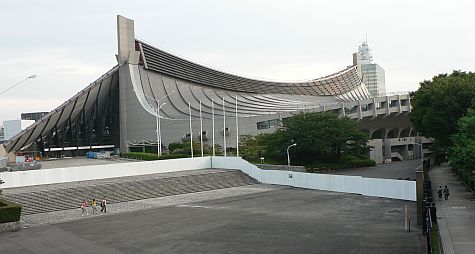 Exiting the north east corner of Yoyogi Park, we entered the Harajuku district.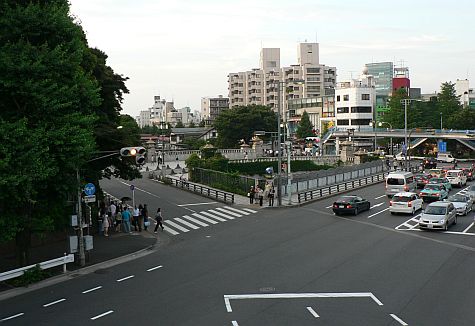 The Harajuku JR station is known as one of the busiest in Tokyo.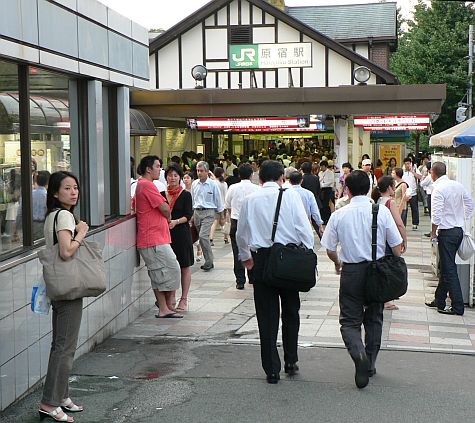 Northeast of the train station, the density of people on Takeshita Dori was even higher.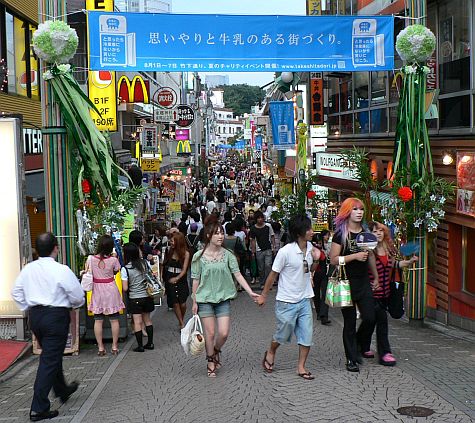 Diana found the Daiso (100 Yen store), and continued her pursuit of souvenirs made in Japan.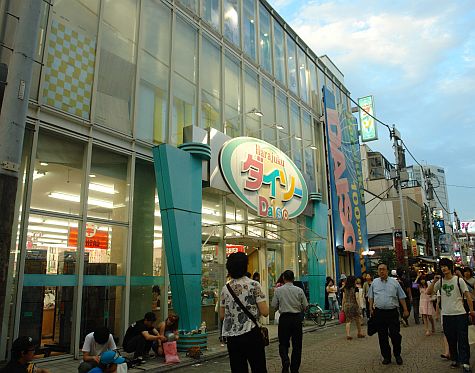 When we left the Daiso, the sun had set. The clientele on Takeshita Dori is younger than in Shibuya.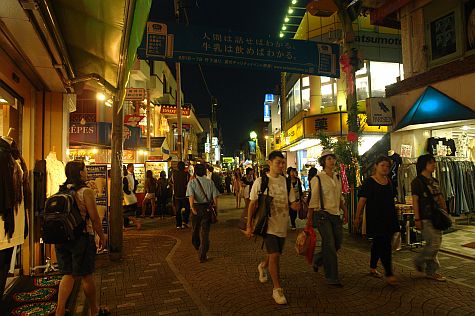 Amongst the specialty stores was this costume store lit up in red.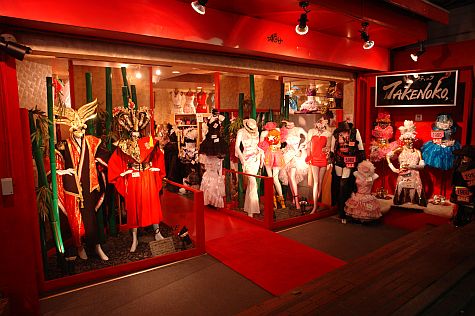 The walk from Shibuya to Harajuku took us through shopping, green space and lots of costumed girls. Of all of the districts in Tokyo, these area seemed to attract the young, and gave off lots of energy.