Penelope, whom I know from Toronto, has been working in Beijing. After some exchange of e-mail messages, we coordinated to meet for drinks and dinner. Eric and I ran late that day, so last minute replanning targeted a restaurant in the
Sanlitun
area. We didn't have the Chinese name for the restaurant, so the hotel clerks and taxi drivers couldn't give us an exact address. Sanlitun is the district near the foreign embassies, with offices of many multinational businesses.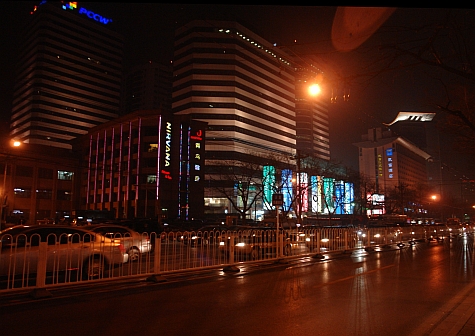 When we arrived, it took a few minutes to get oriented. I then realized that on my first visit to Beijing, I had worked in the Pacific Century Place office tower across the street. I shouldn't have been surprised that our destination was to be one in the cluster of restaurants catering to expats.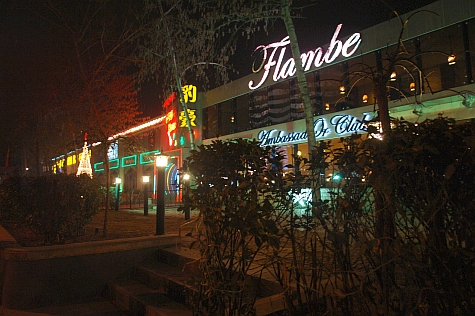 The restaurant, Rumi Persian Grill, is a modern restaurant with large glass windows and attention to decor. This is definitely a level above the native Chinese restaurants where Eric had been taking me.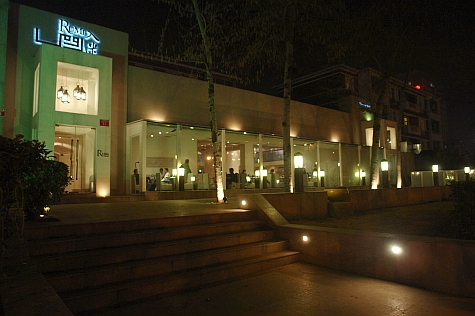 Penelope had arrived before us, with Jim. We ordered a variety of dips and breads as appetizers to share.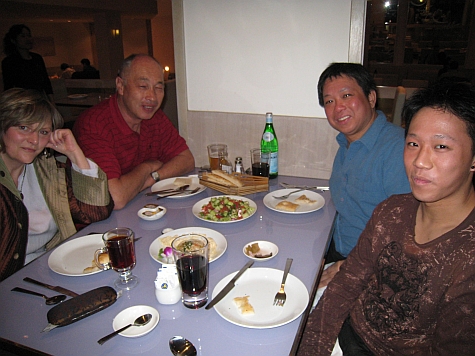 The food was a good change from the Asian dining (Chinese and Japanese) that I had been eating over the previous week. By western standards, the bill was quite reasonable.
After dinner, we hopped into a cab to go a few (big) blocks to Penelope's apartment. She's been living in a more local style: the exterior isn't up to western standards, but the interior spaces are quite nice. In the hallways, we dodged some in-progress construction, as the windows in building were being redone.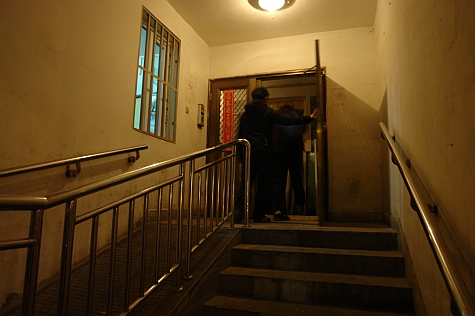 Penelope was proud of the view from her apartment window. She could watch daily life outside of the hutong, with people coming and going. The hutong is only open to residents, so she's never been able to walk inside for a look.
Penelope offered us some tea and dried fruit that she had picked up on one of her many trips into more rural areas of China.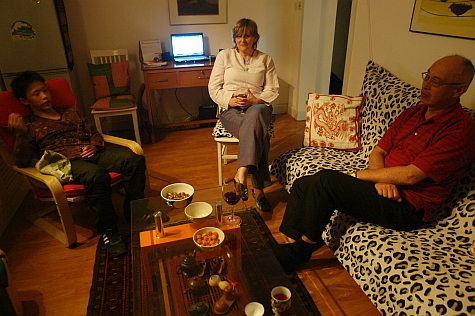 Since Penelope has been working as an examiner of English proficiency, and Eric has been coaching some students in English, we had some discussion about the desire for Chinese to speak English. One candidate examined by Penelope seemed to want to NOT demonstrate his proficiency, because he didn't want to leave China!