Since Taina was sure to wake up early after
her first day in Toronto
, she got up early, and went for a run along Queen Street East before we woke up. Since I found her name in a Google search associated with a marathon in Sweden, I wasn't inclined to join her. She probably made it all the way across to the Beaches.
Our first stop for the Friday was a research lecture in marketing at the Rotman School of Management at the University of Toronto by Catherine Tucker from the Sloan School of Management at MIT. These visiting faculty talks happen regularly, and give the academics the chance to discuss ongoing research with peers in other cities.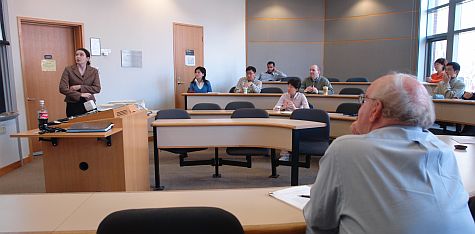 After the talk, Andy joined us in a cab down to Chinatown. We had dim sum at Sky Dragon restaurant, on the penthouse floor of the southwest corner of Spadina and Dundas. I kept the food coming, as Taina and Andy talked. They discussed research interests, and Andy's history, since his mother was of Finnish heritage.
Taina and I walked over to Yonge Street to shop at the World's Biggest Bookstore. Diana brought the minivan over, on her way back from work, and took over guiding Taina to shop at the Old Navy in the Eaton Centre. They shopped rather quickly, and were soon on the streetcar home.
As a change in cuisine, I suggested that we might go to Ethiopian House for dinner. Greg and Indira were available that evening, so there was five of us. Ethiopian dishes are served communally, with various stews (e.g. tibs) eaten with injera (bread). It's food eaten with the hands, so cutlery is not provided.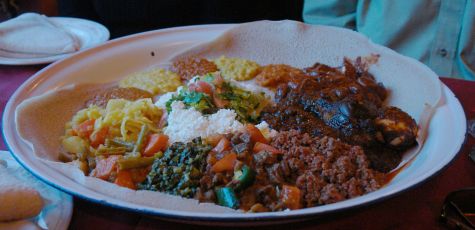 We had a wonderful evening of discussion. (Greg and I did out best not to discuss our prior work life together).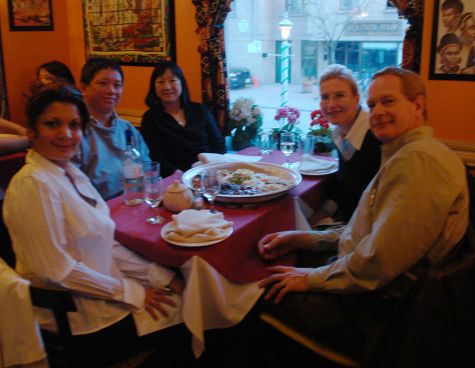 The next morning, I drove Taina out to the airport for continuation of her travel to Chicago. Less than 48 hours in Toronto was surely a whirlwind tour for her!