I haven't seen much of England, in my past travels. I've been through London a few times on business, and had a vacation with Diana where we saw
Slough
, Oxford and Greenwich. On way to visit at the University of Hull, I thought I'd meet up with
Martin Gladwell
, on his home territory of Nottingham. I've heard that Nottingham is a fun town.
The day didn't begin well, starting out to the airport. Petri had called for a taxi to pick me up a 5 a.m. for an early flight.  After getting caught up on a bit of e-mail and packing, I went to bed about 10:30 at night, … and the next thing I knew, light was just breaking and Petri was waking me up to say that the taxi was waiting. I had set multiple alarms, but must have set them all wrong! (That's a stress signal for me!) I took a few minutes to quickly finishing packing the last few items into my suitcases. I got in the taxi, and arrived well in time for the flight. (The waiting taxi charged me an extra 20 Euros). The flights, routing from Helsinki to Copenhagen to Manchester, were relatively uneventful.
When I arrived at the Manchester airport, the customs officials wanted to check my baggage. This wasn't like American customs check — the British official was quite friendly and relaxed. Afterwards, I asked why he thought to check me. He said that from my baggage tags, he could see that I had arrived on the Copenhagen flight, but he couldn't tell from where. The customs officials weren't busy that morning, so I guess that they had the opportunity to indulge every curiosity.
While in Finland, I was able to receive a text message from Martin on my mobile phone service, but it doesn't allow me to reply internationally. Martin was waiting for me right outside the arrival area doors in the Manchester airport terminal. He had arrived from an IBM meeting in Madrid the previous evening, and stayed overnight in a hotel. I trailed him down to the train station, and he helped me buy tickets for trip to Nottingham, as well as to York on the next day. I made jokes that I was getting used to having all the arrangements done for me, because in Finland, it seems that my hosts (Minna, Taina, Ritva, Annaleena) can always get simple things done faster in the native language.
We changed trains at Manchester Piccadilly1. When travelling from one country to another on a single trip, I feel slight cultural dissonances. Certainly, the architecture in British train stations feature Gothic or Roman touches, whereas Finnish buildings are either Scandinavian modern or rustic (as in the old houses in Porvoo). On the train platform, the crowded space, the casual style of dress, and multitude of ethnicities was a completely different feeling from being in Finland. We waited for the train beside two old Chinese ladies carrying plastic shopping bags — as they would in Hong Kong or in Toronto — chatting in the Hoisan dialect (that my parents speak) about the price of groceries. I assume that whatever immigration policies prevailed in Canada in the 1960s and 1970s also prevailed in the UK.
We got onto a crowded car on the train, and seats were full. In the entry passage, I sat on the jump seat, and Martin sat on his suitcase. Chats with other passengers suggested that this train to Sheffield and then Nottingham often runs to capacity. Most interesting to me was the large number of passengers on the train going to watch the football game. They were carrying around large cans of beer in plastic shopping bags, and casually consuming them. I told Martin that I was unsure whether this was legal or illegal in Ontario, because it just isn't done2. The football fans weren't threatening — some came as complete families — but Martin warned that they could get loud. They gave me a good sampling of football songs and cheers as a natural part of their trip.
At Nottingham, we took a taxi back to Martin's flat. I was intrigued the by the design of British "black cabs": there's no trunk, but an entry into a massive passenger space with doors wide enough to bring in luggage. If more passengers come in, there are jump seats (facing backwards). These are so practical, I wondered if anyone has ever tried importing them or building something similar in North America3.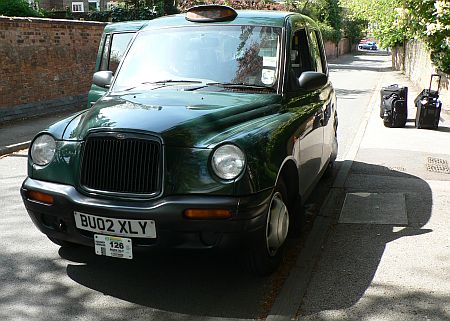 We took a few minutes to drop off baggage at Martin's flat, and headed out to catch a double-decker bus into the city centre of Nottingham. While it might have been nice to see Old Market Square before the construction started, it's currently under construction to become the winning vision of a new public space. On a Saturday afternoon, the Broad Marsh Shopping Centre and pedestrian shopping streets were bustling. Nottingham has a great energy about it. Unlike many other places I've visited, the people don't seem stressed, and many have smiles on their faces. Martin says that Nottingham is a popular place for stag nights and hen parties, so it's not unusally to see troupes of women cavorting together while dressed alike (e.g. as nuns).
We stopped for some tapas at La Tasca — a bit of calamari, some chorizo, some (non-salty) anchovies. We stopped into St. Mary's Church — it dates back to construction in 1376 — and I was amazed by the dates and inscriptions on some of the crypts built into its walls.
As it started to rain, we retreated in the City of Caves for a tour of underground Nottingham (literally). Actors told history about the medieval tannery pits — the tanners never caught the plague because even the rats couldn't stand the smell — as well as the caves used as shelters during the bombings in World War II. Martin and I then wandered over by Nottingham Castle, where we looked at the Robin Hood statue and plaques on the wall.
I was intrigued by two uniformed officers taking digital photographs of a very nice sports car parked nearby — and Martin informed me that digital images are a method of presenting evidence on parking tickets in the UK.
For a late afternoon break, we stopped by Ye Olde Trip to Jerusalem — which proclaims to be the oldest inn in England, back to 1189 A.D. Martin and I sat out in the courtyard, listening some boisterous drinkers in the main room singing pub songs (e.g. old Beatles sounds, Paul McCartney would be proud!) until the barman complained about the volume. I guess every bar has its limits. Martin had previously pointed out the Bell Inn, nearer to the center of town, that disputes the "oldest inn" claim. Dating "from timbers in the Bell Inn" reveals construction circa 1420, whereas Ye Olde Trip to Jerusalem's "building itself dates from the 16th or 17th century" — although its "caves may date to the 11th century". More interesting for Ye Olde Trip to Jerusalem is the Cursed Galleon in the Rock Lounge. It's a model ship over the bar, and "last 3 people to clean it have all mysteriously died".
We went back to Martin's place so that he could have a quick nap, while I caught up on e-mail. For the evening, we decided on a Japanese restaurant for a quick dinner, and then on to a (relatively quiet and smoke free) pub. I might have been in the mood for some music — jazz or folk — but it seems that Nottingham gets so much business on weekends, that venues don't need live music to attract customers. Music is something that happens on weekend nights. In any event, I got to meet Martin's friend Roger, and we had an interesting conversation about rock musicians getting old. Roger's band used to play progressive rock, so it's a real challenge to remember guitar parts, not only because progressive rock can be intricate, but also because some pieces run 10 to 12 minutes in length!
By the end of the evening, I was pretty wiped out, so I was happy when Martin offered me his bed and he slept on the couch. It's been a long time since I've stayed with a bachelor, so I've almost forgotten what living alone is like!
(See more of Nottingham on the snapshot server in our basement).
---
1I asked Martin about the etymology for piccadilly. He didn't know. Geraldo Carneiro cites two alternative etymologies: "I've learned from Jorge Luís Borges a probably false, but delicious, etymology: "Piccadilly" was the place in which the Portuguese made his "pecadilhos" (little sins). Afterwards I learned from Anthony Burgess (funny as those two writers have the same name, signifying bourgeois) that the word "Piccadilly" came out of a family of fat people that created "pickardils", that means healthy pigeons, if my precarious English does not fail (and it does!)".  
2Now at home, I can see that the Alcohol and Gaming Commission of Ontario says that it's illegal: "It is illegal to transport beverage alcohol in a motor vehicle, a motorized snow vehicle or a boat unless the beverage alcohol is in a container that is unopened and the seal unbroken, or unless the beverage alcohol is packaged in baggage that is fastened closed or is not otherwise readily available to anyone in the vehicle. In a boat, the beverage alcohol must be stored in a closed compartment." 
3"Black cabs" appear to be all built by London Taxis International in Coventry. It turns out that there's been a London Taxis of North America company out of Massachusetts since 2000, and they received a U.S. government approval for import as taxis in 2003.