My travel to Europe and Asia has mostly been on personal time. In my day job, the territory only extends the U.S. However, Antonio and I happened to be working with a client with offices in Paris, so we had reasons to make a business trip to Paris. Since I had been riding trains and subways in New York City a lot, we met up at Charles de Gaulle airport and took
the RER train
connecting to the metro. Here's the transfer point at
Châtelet – Les Halles
.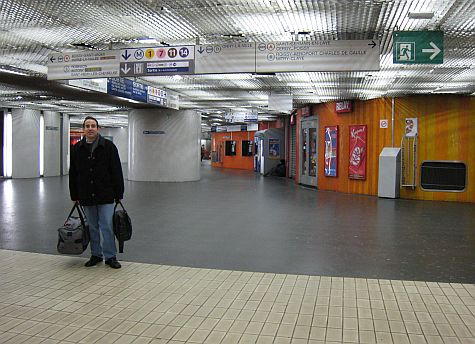 My mode of travel is the same 24″ suitcase, no matter where I go. It stays packed, as I'm on the road so much. Since we were travelling on expense account, taking the subway was really a dumb move. I discovered that the Paris metro stations are a maze of connections — not unlike Tokyo — but, unlike Tokyo, the platforms aren't connected by elevators or escalators! I had to hoist my luggage up and down quite a few sets of stairs, while Antonio waited for me.
We exited the metro at the Quatre-Septembre station near our hotel. On a Sunday morning, the streets were quiet.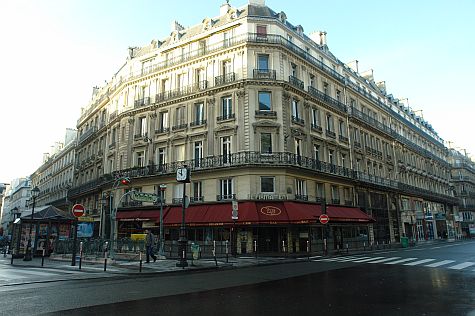 The rooms at our hotel on Rue de Richelieu weren't ready, so we checked our bags and went touring. I had brought the guidebooks from the library, but let Antonio do the navigation. My eyes aren't as young as his.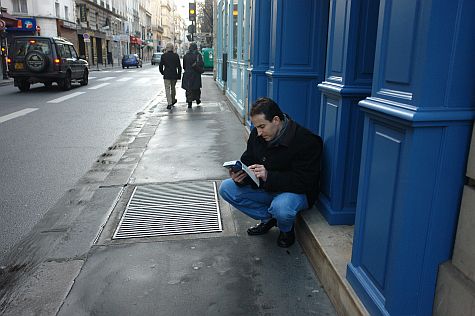 On Sunday mornings, one venue that is open is the Bastille Market. We hopped on the metro to Place de la Bastille.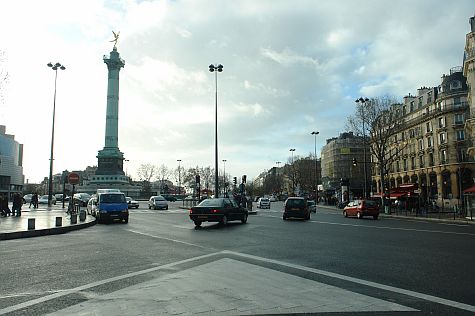 The Bastille Market is located in a strip down the middle of the boulevard.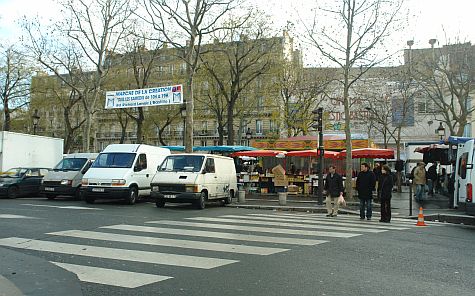 The leeks, cabbages and potatoes are a cue that this visit was in December.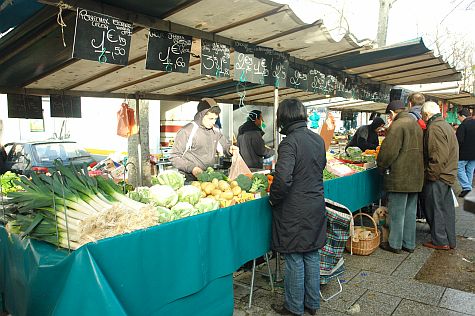 Selling fabrics are common year-round, but selling furs probably isn't.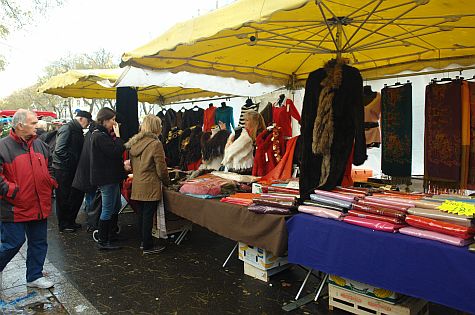 There's a good selection of citrus, which must have been imported.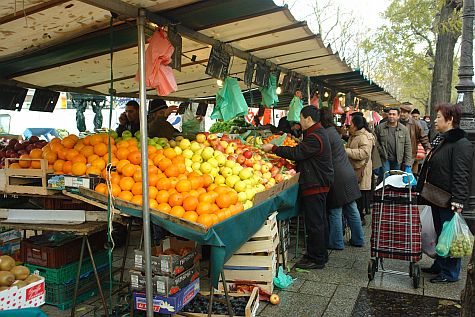 Crabs were in season, and live.
The way to buy eggs would seem to be three dozen at a time.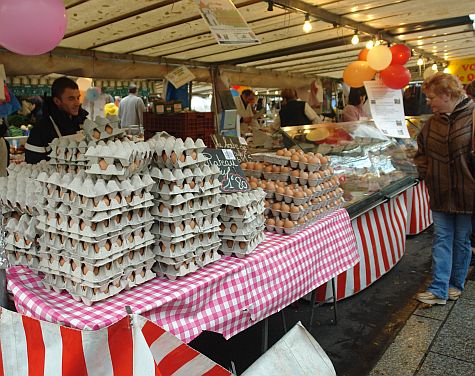 Sunday dinner is no effort, if you pick up a rotisserie chicken.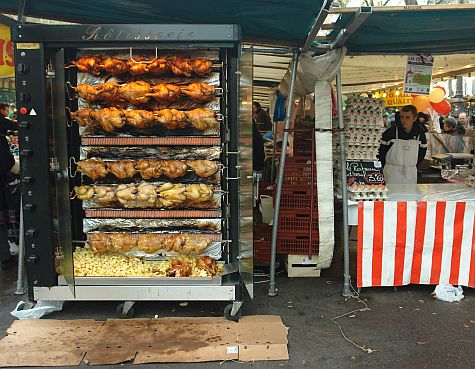 The lagoustine was nicely arranged.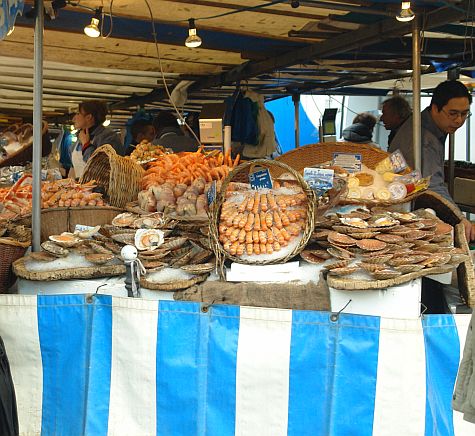 I remember the days when I used to eat soft French cheeses.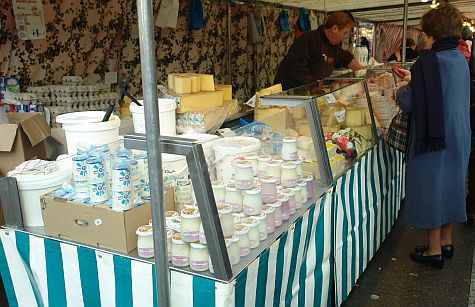 I seriously considered buying some grey sea salt and bringing it home in my suitcase. On tasting it, thought, it tasted like … salt … just salt.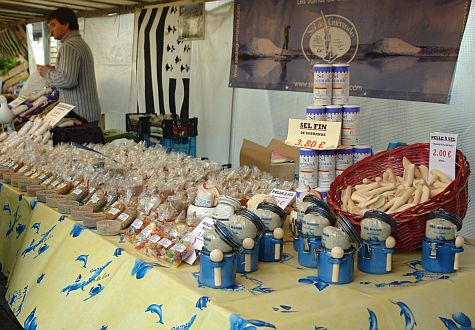 The way to get a bucket of mussels with to fill using a shovel.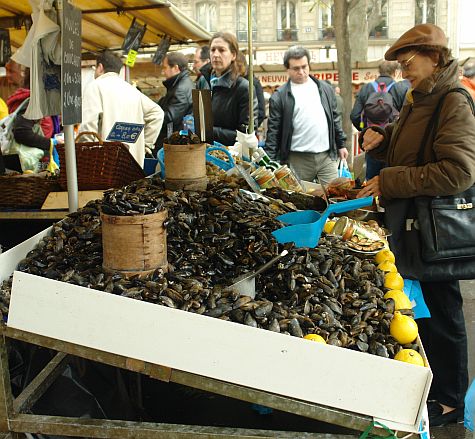 I don't do well with European mushrooms, so there's lots of types I've never tasted.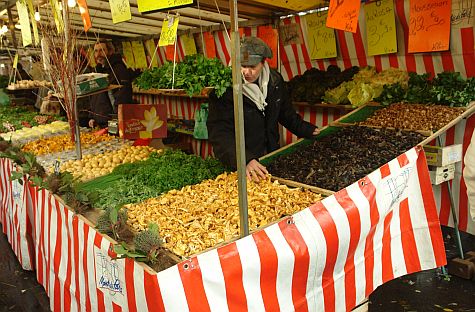 In addition to the food, there's bangles and fabrics available.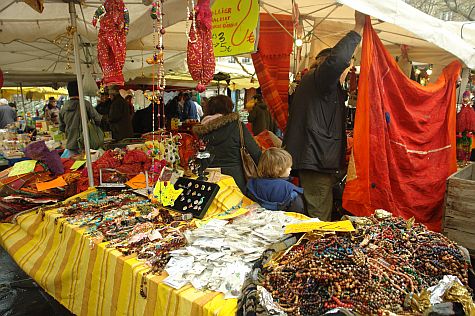 For young kids, there are toys and games for sale.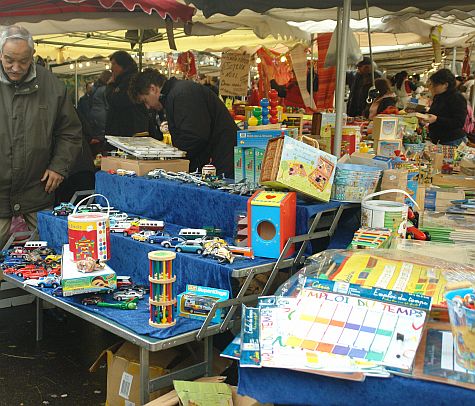 To complete the relaxing Sunday, there are newspapers and magazines.
As we left the market proper, we noticed dogs running around the boulevard by the playground. No kids, just dogs.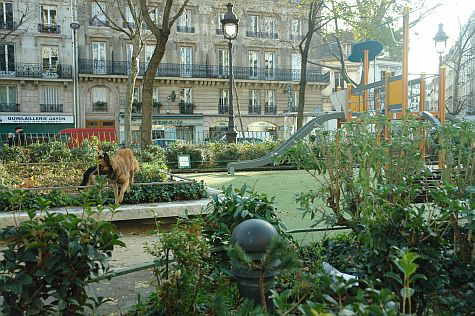 If I could have figured out how to check out a bicycle, it would have been nice to ride instead of walk.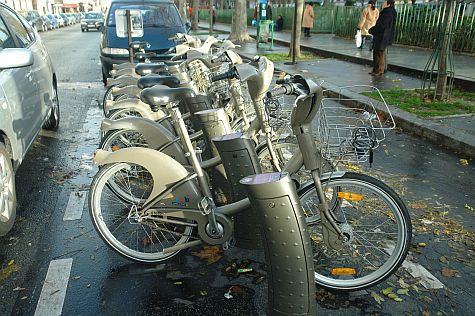 Getting out in the daylight was a great way to fight jet lag. From the Bastille, we started our afternoon walk west.