With one Sunday open for sightseeing, Gary, Taina, G.A. and I hopped on the subway, then the monorail for
Odaiba
. This area, developed in the 1990s, has become the site for many tourist attractions — more oriented for the Japanese than for international visitors. The monorails curve around the various attractions, underscoring the vast area covered on these islands. The buildings are spaced far apart, and the parking lots — the largest that I saw in Japan — seemed to be full, for the holiday weekend.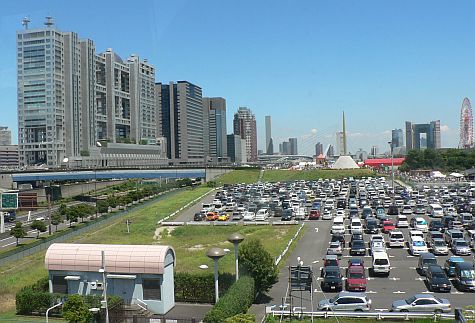 The Fuji Tv building isn't obviously a broadcast centre … which leads to a question of what a broadcast centre should look like.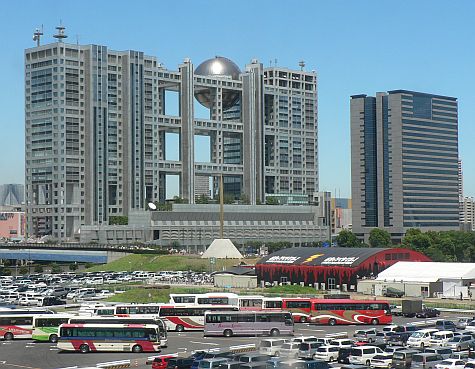 In Odaiba, the structures contrast to the walking-scale streetscapes of the city. In the August heat, the trees unfortunately didn't offer much shade to pedestrians.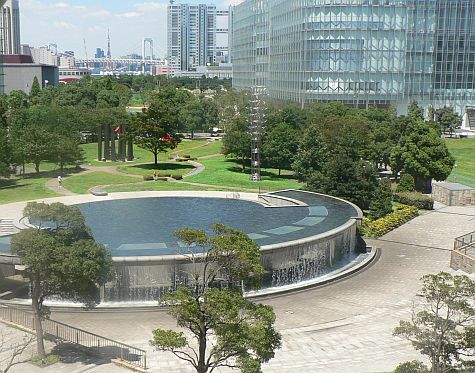 The monorail looped around, providing views of buildings from multiple angles. We eventually came to the monorail stop nearest the Panasonic Centre — which was also right beside a train station.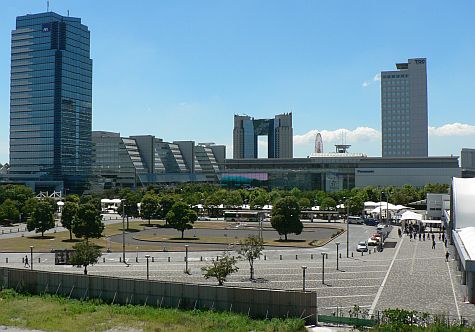 As a group of business researchers, we spent some time looking at the new electronics — large screen televisions, in particular — discussing the convergence of computing and consumer electronics. The Panasonic showroom was larger and much more impressive than the Sony showroom in the Ginza. Something that we don't see frequently in North America is the Panasonic bicycles.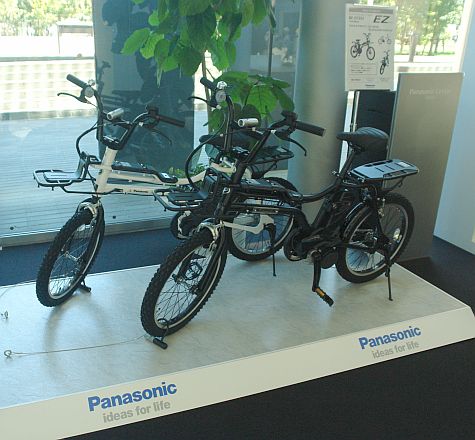 Nintendo has gaming systems set up in the back of the Panasonic showroom. This attracted a lot of kids — not that we were all that interested in gaming, ourselves. We took the opportunity to pose with a life-sized Mario.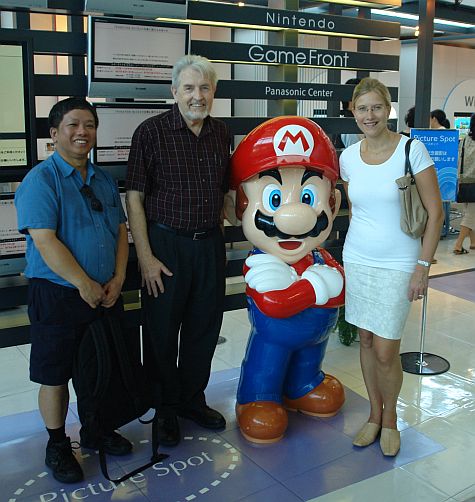 Panasonic runs a show demonstrating an entertainment centre of the future: a wall-sized computer interface that responds to gestures. We sat for the demonstration — I didn't learn much, but I spend a lot of time with computer interface designers! — and didn't miss much, despite the host delivering her entire script in Japanese.