After the art gallery focused on the last century, we took the subway over to Opera City. After riding a series of escalators up, we found the
NTT InterCommunication Center
. Beyond the usual WIMP — Windows, Icons, Mouse, Pointer — interface, there were much larger scale devices to interact with computers. Some displays were by computer science students, and there were even some from the
HCI scientists at IBM Research
. The guides didn't permit photographs in the main galleries, but encouraged us to take pictures in the kids' area. Diana and I took turns crossing the bridge, causing ripples in the projected "water" underneath.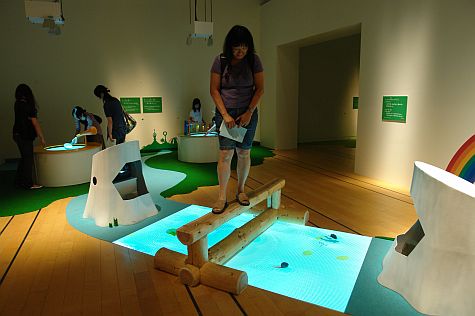 On one of the large screen interactions had us bouncing bubbles up, before they hit the ground.
The NTT ICC is small part of the larger Tokyo Opera City complex that takes up a large city block. In addition to a skyscraper tower, there's a concert and recital hall , the New National Theatre Tokyo (for opera), an art gallery, and a gallery shop.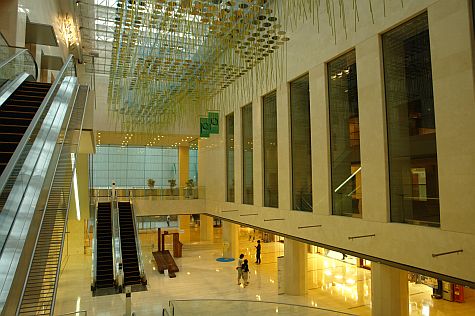 At the Tokyo Opera City Art Gallery, we saw the Melting Point exhibit. Jim Lambie covered the floors with strips of tape, immersing gallery visitors in colour. We also enjoyed the environments of Ernesto Neto, who used fabrics to partition rooms in strange ways. Diana and I played gopher in a room with a sheer fabric about a metre off the ground, with holes cut in a few places so that we could stand up.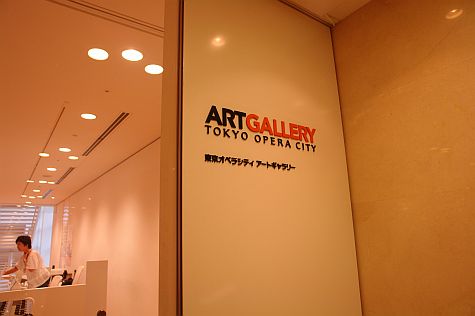 In addition to the interior galleries, the Opera City complex has large plazas on three floors. There were performers and small shopping stalls where families with children came for entertainment.
Diana and I sat down on a bench to rest for a bit. A magician entertained the last few families staying as the sun set.
Diana and I split an order of shave ice to cool off. Tokyo Opera City is the type of venue that our kids would have really enjoyed when they were young. We enjoyed it, too, so I guess it's appropriate for kids of all ages.