Diana and I had seats near the front of the Danforth Music Hall to see Lindsey Buckingham. You remember him? He used to have another backup band. It was called Fleetwood Mac.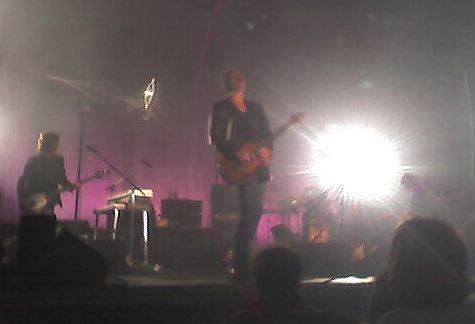 I make that comment pretty seriously, because the Fleetwood Mac popular in the late 1970s was largely as a result of Lindsey Buckingham's compositions, fingerpicking guitar, and production. This tour was in support of his new album "Under the Skin", released just 14 years after his last solo work. He might have released something earlier, but much of his work went into the 2003 Fleetwood Mac album "Say You Will". In addition to all of his solo work, reinterpretations of the Fleetwood Mac hits demonstrate that he was the core of the music, with his voice and guitar.
I really enjoy following musicians with long term careers. Although Lindsey Buckingham made Fleetwood Mac famous (and vice versa) in the world of pop music, he really is respected as a musician and producer. He appeared to be totally enjoying himself in this small venue of just over 1100 seats. I can't say that I saw many in the audience obviously under the age of 40 years old, though.
daviding April 5th, 2007
Posted In: distractions
Tags: danforth-music-hall, fleetwood-mac, lindsey-buckingham