With a visit to the UK and Finland planned for the same trip, summer air fares led me to fly direct from Toronto to Helsinki, with a side trip into Heathrow and back.  I arrived in Helsinki just in time for the start of 
SEM 2009
— Service Engineering and Management Summer School — attending for the fourth time.  The classes were scheduled for the
Otaniemi
campus, as usual, but the first meeting was held at the
Helsinki School of Economics
downtown.
I had booked a flight arriving that morning, so the introductory lecture was a big foggy.
The welcome dinner was held at a restaurant just across from Senate Square.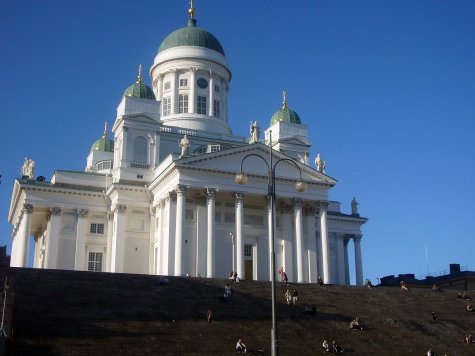 In a game depicting the Finnish heritage, a competition of hammering …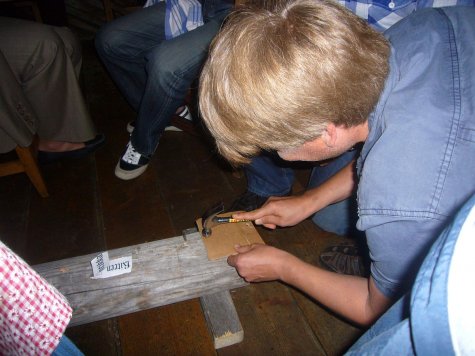 … and sawing preceding the drinking songs.
Besides attending the summer school lectures, I managed to squeeze in sightseeing.  Minna took me over to see the Design Factory.
Minna had participated in an workshop in The Stage, a few days earlier.
Creativity is encouraged with kits of drawing and construction materials.
On the weekend, I took the bus over to meet Minna at WeeGee Exhibition Centre in Espoo.  Scandinavian modernism shows up in the metal bench outside, even before entering the building.
The Finnish Toy Museum is on the second floor of WeeGee.  The treehouse doesn't accommodate adults.
The Helena Rautavaara Museum displays a collection of artifacts from the travels of a foreign correspondent to the Middle East and South Asia in the 1950s.
EMMA — the Espoo Museum of Modern Art — is a maze of rooms on the second floor.  Minna noted the classical schoolroom desk, and contributed some comments to the book.
Downstairs, the Espoo City Museum had a display focused on fire prevention, including some antique trucks.
Also on the ground floor, the Finnish Museum of Horology has a compact collection of clocks and watches.
That evening, Minna and Petri hosted a dinner party.  With sushi-grade fish readily available in Finland, preparing nigiri sushi required only a short demonstration for others to join in.  Many hands make light work.
The distance from Toronto to Helsinki makes a 5-day stay a short trip.  The 7-hour time zone difference means jet lag, so the next stop in the UK would take advantage of having to make the bigger adjustment.
[Start a large-image lightbox screen show over this blog post (in a supported browser)]
[See the HSE webphotos album (with a slideshow option)]
[See the Senate Square webphotos album (with a slideshow option)]
[See the Design Factory webphotos album (with a slideshow option)]
[See the WeeGee webphotos album (with a slideshow option)]
[See the Sushi dinner party webphotos album (with a slideshow option)]