West of the theatre district in New York City is
Hell's Kitchen
, a district with such
a menacing name
.  I've never had a reason to go there, but since I was staying in a hotel right on the edge of the neighbourhood, it was worth an early morning walk.  I started at 49th Street, walking south on 9th Avenue.  It's a wide street, with traffic one-way downtown (i.e. southbound).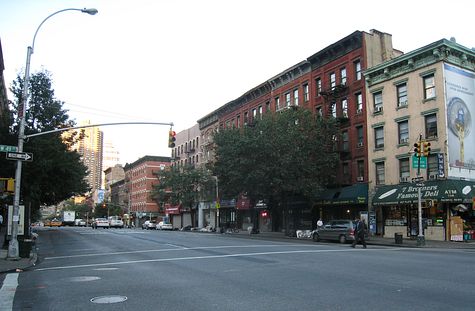 On the east side of the street, the security gates on some shops were still down in the early morning.  They don't present the most attractive face for the city.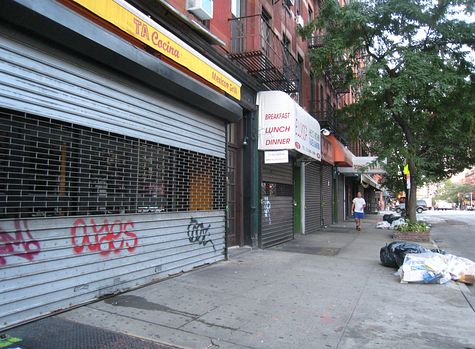 Another block south to 48th Street, there were more shops with shutters down.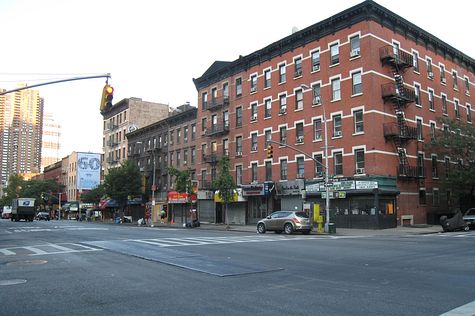 The variety of storefronts on 9th Avenue means convenient shopping for residents nearby on the side streets.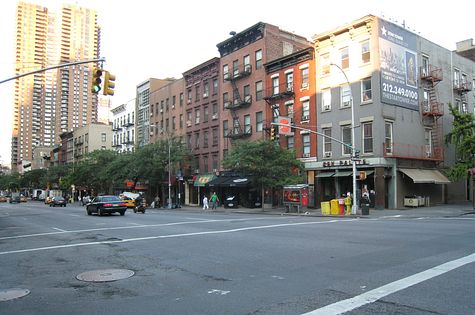 44th Street is a wide one-way street, looking east from 9th Avenue.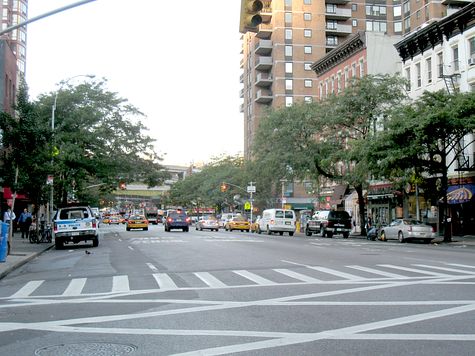 Down 9th Avenue to 42nd Street, going east would lead to the famous theatre district and Times Square.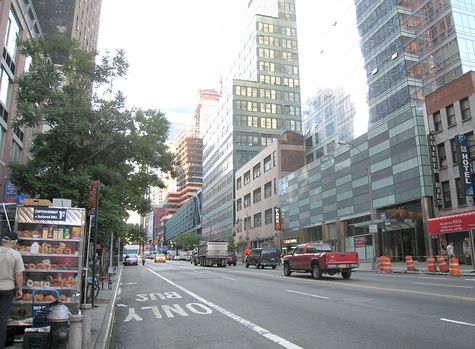 Looking south on 9th Avenue at 42nd Street, the intersection is marked with cross hatches.  This is definitely a turn where a car needs to clear the traffic lights.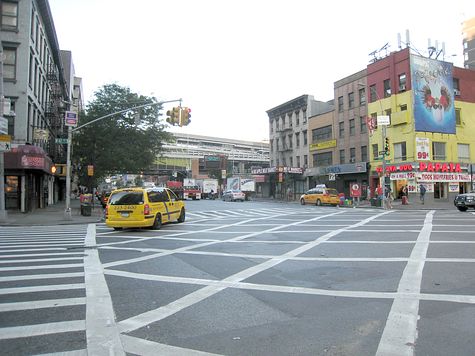 Looking up from 9th Avenue at 41st Street, buses pass from the Port Authority Bus Terminal on an overpass towards New Jersey.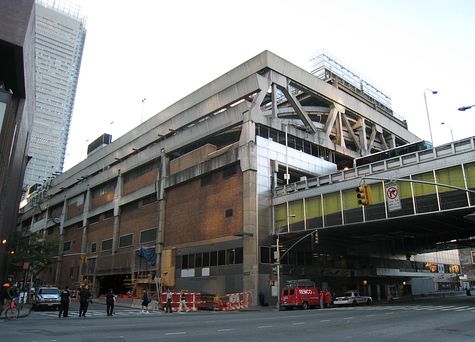 From 9th Avenue travelling east, there isn't much of Manhattan left before the Hudson River.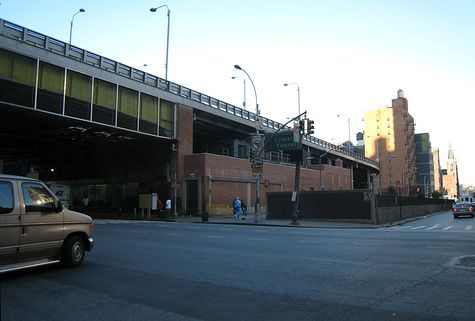 I walked back north on 9th Avenue one block, to head west on 42nd Street.  There's a lot of traffic coming into the city on this route.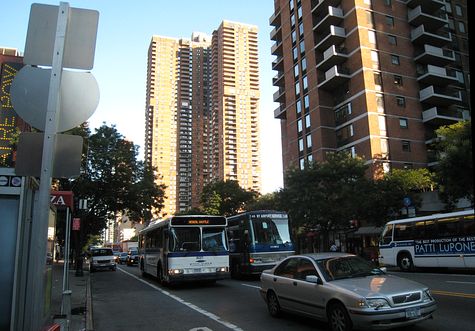 I was surprised to find a small cluster of stages at Theatre Row.  It's away from the bright lights on Broadway.
South of 42nd Street, Dyer Avenue brings in the traffic from the west side.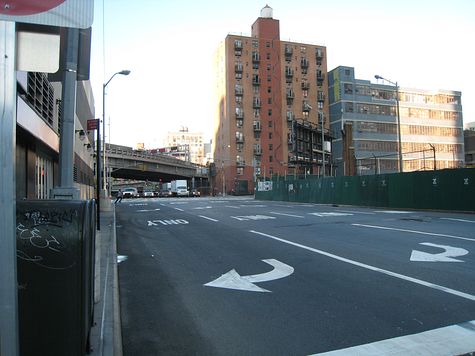 West of 42nd Avenue at 10th Avenue are some high rises, undoubtedly with a good view of the Hudson River.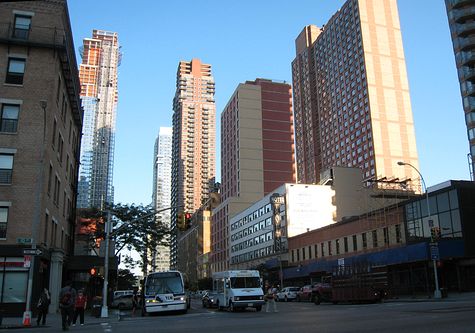 I turned to walk north on 10th Avenue.  It's one-way uptown (northbound).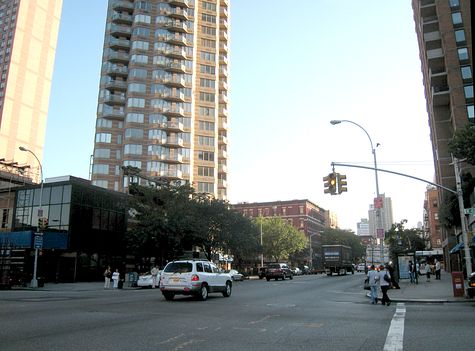 The streetscape on 10th Avenue doesn't have the wall-to-wall storefronts as on 9th Avenue.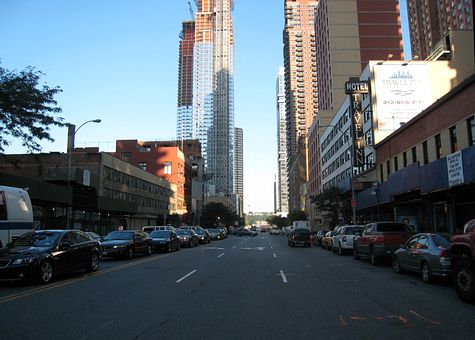 The intersection at 43rd Street on 9th Avenue is well-groomed, with awnings and trees.
On 45th Street at 10th Avenue is a gas station.  Manhattan isn't the best place to own a car, but there have to be gas stations somewhere on the island.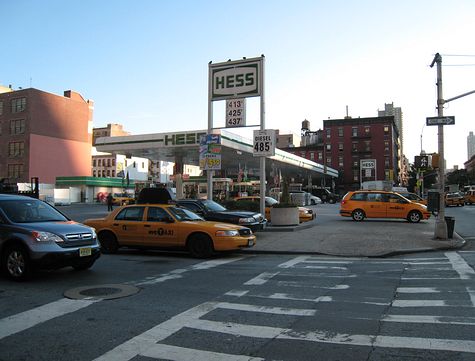 By 46th Street, 10th Avenue still wasn't showing much evidence of waking up.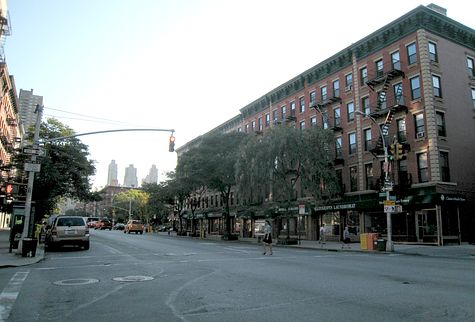 Heading back towards my hotel, I walked from 10th Avenue on 46th Street eastward.  The lines of trees are a break from the concrete.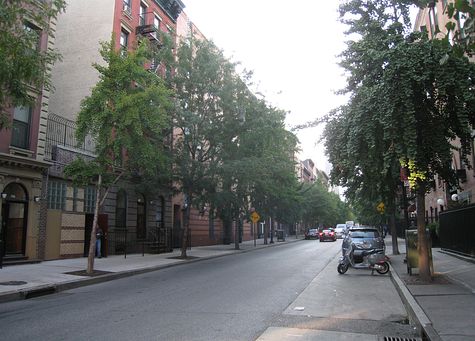 The Matthews-Palmer Playground suggests that children live and grow up in the neighbourhood.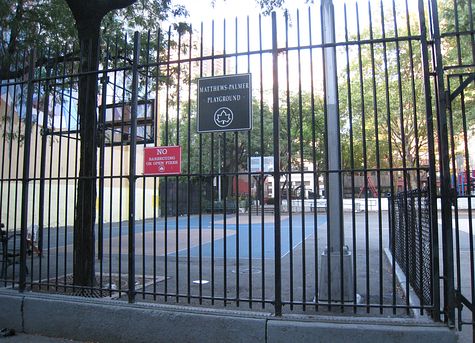 Continuing east on 46th Street, I discovered that I had stumbled onto Restaurant Row.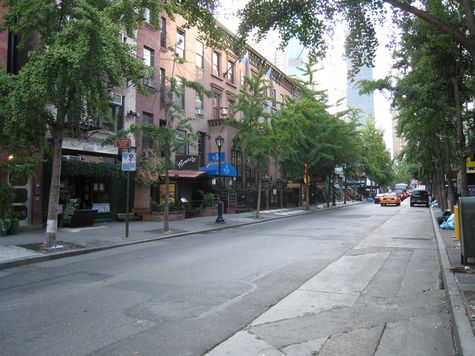 The large parking lot on 46th Street, near the restaurants and theatres, must be a revenue generator in the evenings.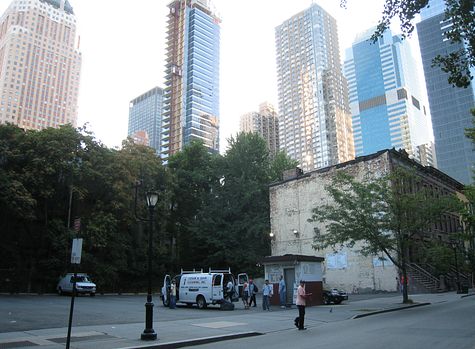 At 8th Avenue, the view of 46th Street east reveals the typical skyscraper contours of Manhattan.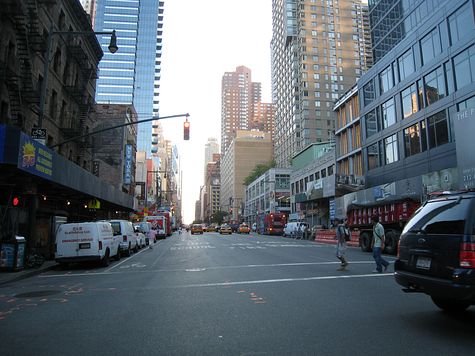 Turning to walk north on 8th Avenue, the streetscape looks rough, with a few shining towers.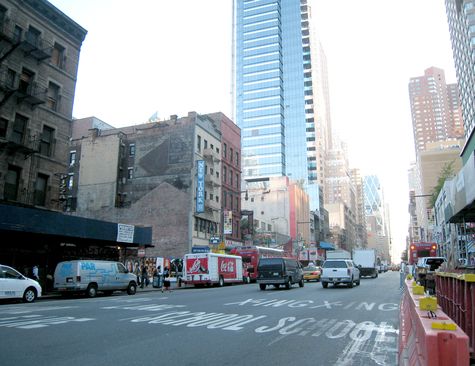 On 8th Avenue, there's a wide variety of little restaurants.  For obscure cuisines, Marianne and Margaret agreed to try Iraqi food at La Kabbr.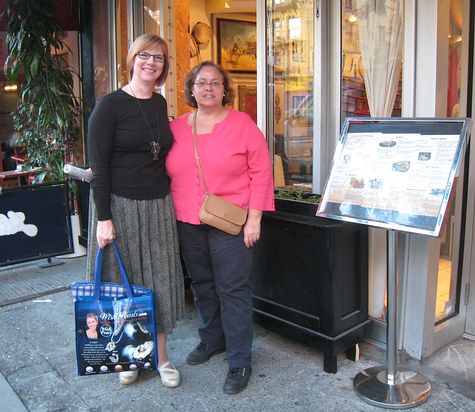 Hell's Kitchen is so close to the tourist destination of Times Square, yet's it's a neighbourhood where New Yorks live and work.