The
Ginza
is famous for luxury shopping. Since I travel so much, it's not the luxuries that attract me. Almost a week into a 3-week trip in Japan, I was looking for the basics: more fruits and vegetables in my diet, and laundry facilities to freshen up a suitcase of clothes. Some detective work on the Internet suggested
Hanamasa
as a good place for groceries. Since we were staying in a hotel without cooking facilities, Diana and I bought veggies we could eat raw: tomatoes, peppers, cucumbers and carrots.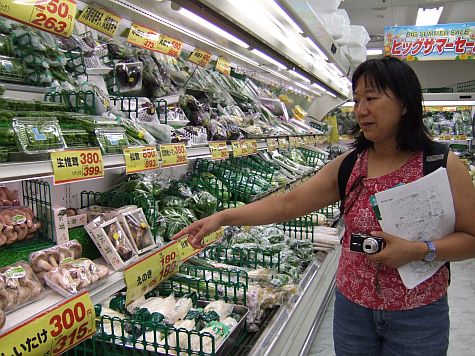 The vegetables and fruit were, of course, more expensive than in North America. The Hanamasa prices seemed reasonable, though, when compared to shopping in department store basements. We might have bought bananas, except that huge bunches were by a sign to not break them up. Plums and peaches were in season and probably local, so they were a better choice.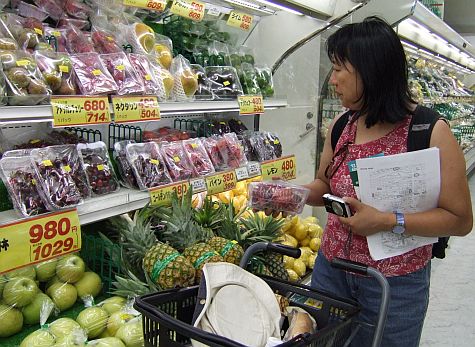 The original core business for Hanamasa was its butcher shop. They've got lots of cuts of raw meat, as well as hams and sausages. One aisle has display cases with ready-made foods, e.g. salmon on rice, noodles, pork cutlets. We saw some working people buying these at lunchtime, and heating them up in one of two microwave ovens. Diana bought yogurt, and since they had soymilk, I picked up a large package of German muesli.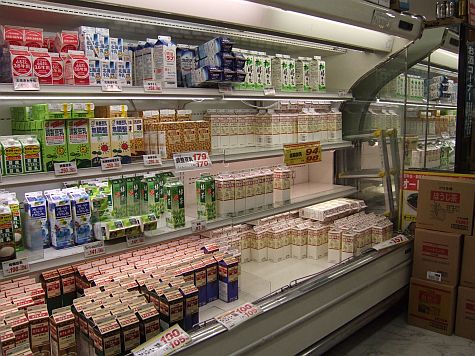 Hanamasa has a good selection of imported foods. Outside, the packages of fruit juice and bottles of wine were open for self-service sampling. The building is at the south end of the main street in the Ginza — Chuo-Dori — a short walk north of the Shimbashi station. The store is situated under an overhead expressway.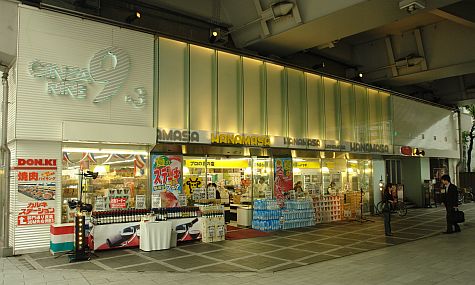 The expressway marks the south end of the shopping district on Chuo-dori. On the Saturday, the street was closed to traffic to create a pedestrian mall.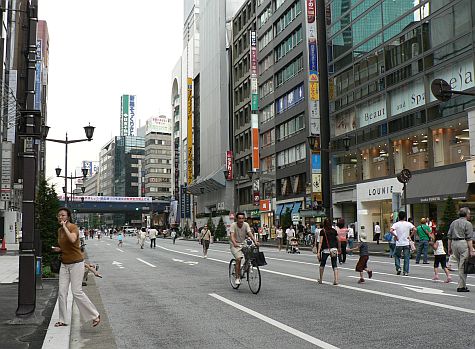 Facing north, the Ginza is a canyon of skyscrapers. There are lots of stores with famous names, but they're not places where Diana and I are inclined to shop.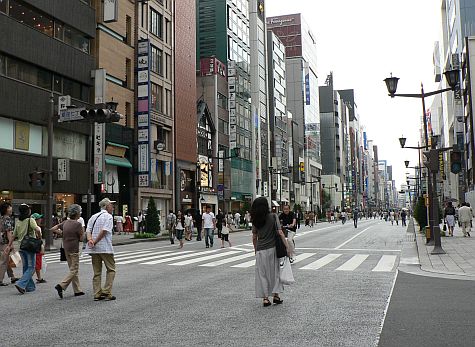 Diana and I really do enjoy Japanese food. However, our Chinese diet normally has lots of cooked vegetables and fresh fruit. For us, finding Hanamasa on the Ginza was a true luxury in Japan. We didn't go as far as buying the $10 cantelopes, though.
As for finding a coin laundry — we never did find one. I guess visitors who stay in hotels near the Ginza either don't stay long enough to wear everything in their suitcase, or else the order laundry service piece by piece.