One of the fringe benefits of living in an urban centre like Toronto is events like this
free preview screening
of
Dragon Boys
.
Dragon Boys
is tv mini-series produced by the CBC, with a story centering on a police officer and drug gangs in Vancouver. It has the distinction of being the first major television production in North America with all Asian Canadian leads.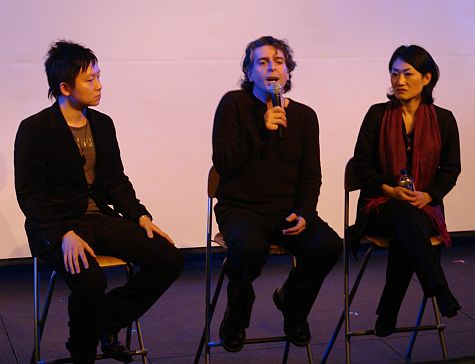 This evening was co-sponsored at the Fairview Library by a new magazine, Blink Toronto, and the North American Association of Asian Professionals. After two 90-minute (without commercials) episodes, there was a brief question-and-answer period with director Jerry Ciccoritti, and actors Simon Wong and Jean Yoon.
After jokes about whether the lead actor (Byron Mann, who wasn't there) is married, Jerry Ciccoritti described pitching the concept in Hollywood two years ago to all three major tv networks. The networks liked the concept, but there are two conditions for having a production in the United States.
Even if the plot is mainly non-white (e.g. blacks or Asians), there must be a white lead to sell the story.
The movie must have a happy ending.
Thus, this director said that Dragon Boys is a production that could only have been made in Canada. He also said that, although he is —obviously — not Asian, he was thought to be the best candidate for the work, and many of the issues in this story are universal to other immigrant communities.
Other questions from the audience to Simon Wong and Jean Yoon centered on careers in acting (e.g. how parents behave when a son or doctor isn't become a doctor / lawyer / engineer / accountant). (These are themes that we, as a family, had previously seen portrayed in a play, "Banana Boys").
Noah and Ryan watched the two episodes, and enjoyed the show. If you're in Canada, Dragon Boys is premiering on CBC television on Sunday, January 7 and Monday, January 8. It's historic, and worth watching. If you watch, maybe there will be episodes 3 and 4. Comments are welcomed over at a fan site on Schema Magazine.