If I have a choice of hotel locations when I'm on business travel, I prefer one next to a Chinese "duck hanging in the window" rice-and-noodles joint. The menu is predictable, and these places survive on repeat business. In Washington, DC, one of the corporate negotiated hotels happens to be next to
Chinatown
, and a key
Metrorail station at Gallery Place
. I took the subway from the airport. Coming up from the subway platform, it seems as though the station designers took the Chinese neighbourhood theme seriously.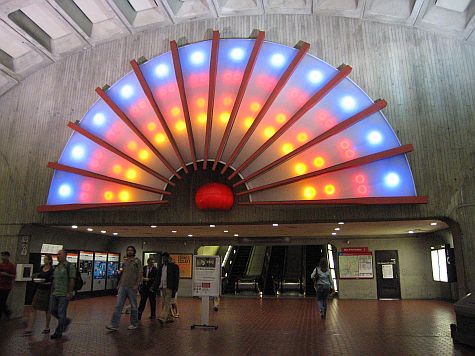 Chinatown in DC isn't more than a few blocks long. There's probably fewer than ten Chinese restaurants there.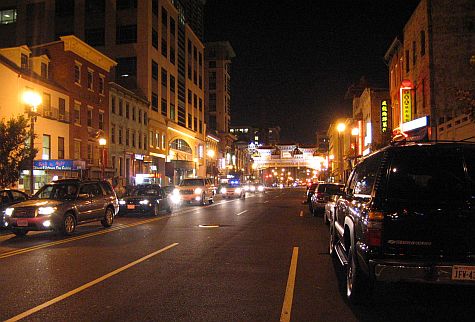 The next afternoon, in the daylight, the approach to the gate from the east can be seen more easily. On the left (south) side, the entry to the subway isn't obvious.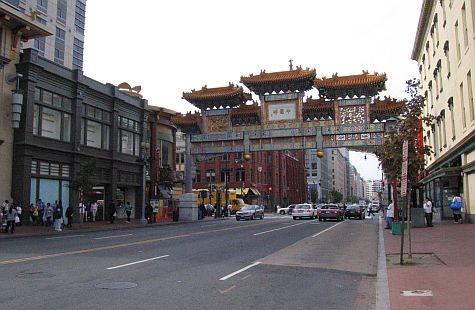 Walking to the other side of the gate, the view from the west side shows the building at the southwest following the Chinese theme.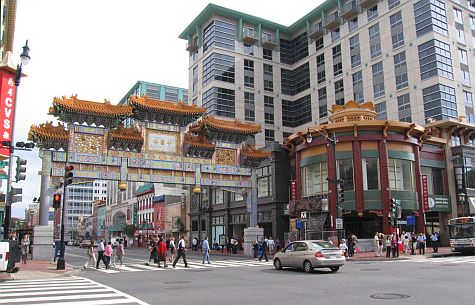 For a little sightseeting, I turned south to walk down 7th Street NW. This shows a human-scale Washington DC. There's some restaurants on the street, possibly supported by the movie theatre and arena on the other side of the street.
Continuing south, the small shops give way to federal buildings. The National Portrait Gallery was under construction for the fall.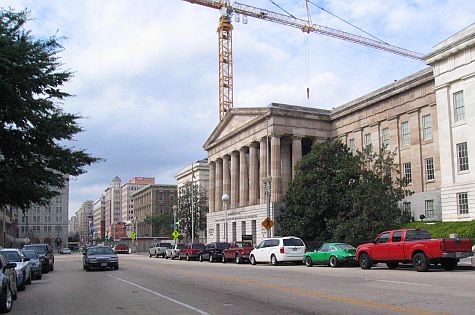 Since streets running in more than a grid pattern in DC, there's strange intersections now and then. Here's one at the Navy Memorial.
At Pennsylvania Avenue, turning east — or is that north-east? — the Capitol Building is prominent.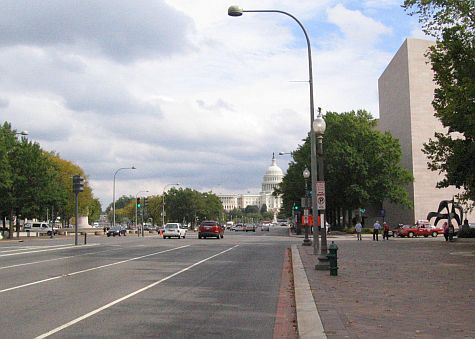 Constitution Avenue takes a weird turn southwest from Pennsylvania Avenue. The Washington Monument is hard to miss.
On the north side of Pennsylvania Avenue, the Canadian Embassy has more contemporary architecture.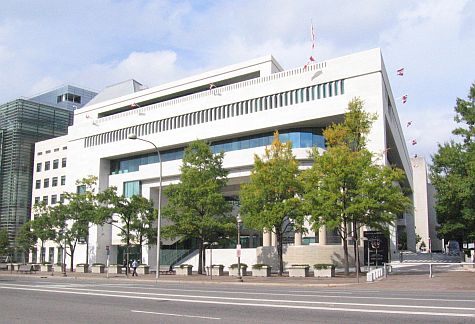 Crossing the street and climbing the steps onto the plaza, the front entry seems to be designed to preclude intruders who might crash the door.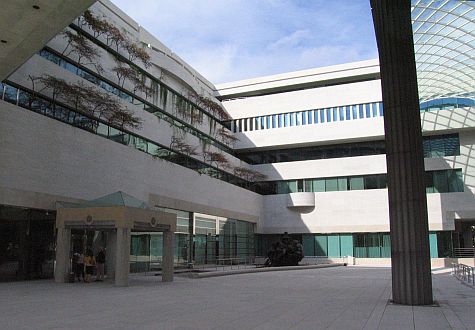 Getting closer to the building, the fountain in the front has the Spirit of Haida Gwaii sculpture that reflects that Canadians are all in the same boat, together.
Turning around to look back towards the street, the colonnade is an interesting structure. I'm not sure if it really has a function.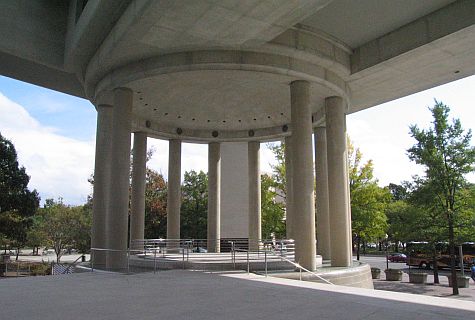 Walking around the building to the northeast side isn't the side that most tourists would recognize. Visitors to Canada might see this view more frequently, though, as visas are issued from a door on this side. The street behind isn't as grand as Pennsylvania Avenue, but I think that the Canadian embassy looks better from this perspective.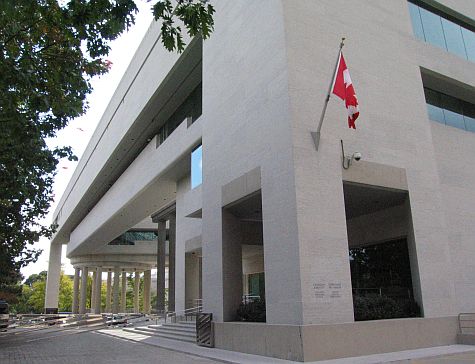 The warm fall weather was a good opportunity to get out of the hotel room, and just walk around the city.