Ben has been down in Calfornia since the early 1980s, and has the glamour of working in Hollywood. What's his work day really look like?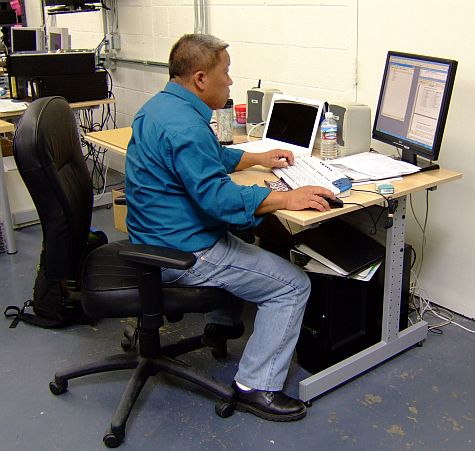 Here, he's figuring through a spreadsheet, configuring mappings of pin-in and pin-out for a custom cable. His company builds digital cinema projectors, coming soon to a movie house near you.
The company is currently renovating the offices and showroom up front, so Ben's desk is temporarily in the assembly area. The hardware is interesting. It's essentially PC-technology (albeit professional grade) with a proprietary decoder and touch panel display.
There's in irony in that the older we get, the closer that Ben's job and my job seem to be getting. If Dad was 30 years younger, he could have been doing what Ben was doing on this day. The convergence between computer technology and the entertainment business is why I've been making a lot of trips to California this fall.