We can't say that it was totally unexpected, with the way that year-end headcounts are done, but the early retirement of my (ex-)manager Greg happened quite rapidly. Less than a week after an e-mail announcement from Rick came out — surely buried in the mass of end-of-year rush — a group of colleagues convened at Viva City to wish Greg well.
Greg was relating to Rehka about waking up on his first official day of retirement. He started the coffee as usual, sat down at his laptop … and found that he didn't have any priority e-mails to handle.
Rick hosted the event, with Simon, David and Krysanne enjoying some appetizers.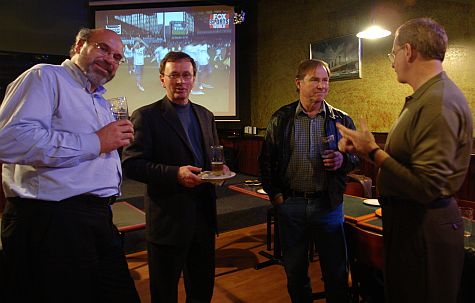 Hmmm … not too many sports fans at this event!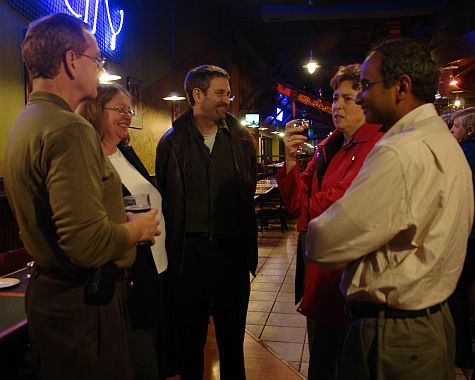 Undoubtedly, more work-related discussions, even if Greg has officially retired!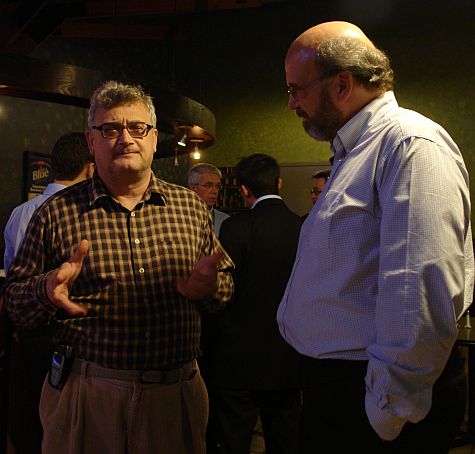 Jacek related his stories of spending the past 6 months in China (near Macao), six weeks at a time.
Since the team works on consulting gigs mostly at client sites, getting everyone together in one place is a rare event. (Most didn't realize that I had also moved on to a new job … unofficially since July, with the paperwork completed in October!)
Greg is officially retired after almost 30 years in many roles with a single company — but more accurately is now launched on a new career. To fill in on the extra time, now that he has less e-mail, I'm encouraging him to take up blogging!